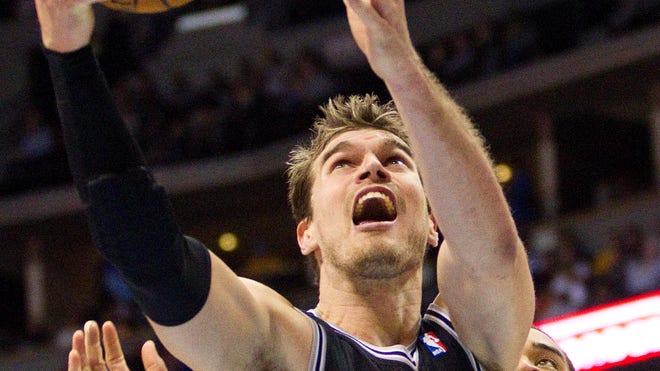 Tiago Splitter is probably not going to ever be a 20 and 10 guy. He's not going to dominate the post, grab every rebound and assert his muscle down low. Luckily for the Spurs, that's not what they need from him. At least not right now.
What they need from Splitter is for him to take the pressure off Tim Duncan. That's what the Spurs have been searching for for years. As Duncan gets older, he needs to shoulder less of the load in the post. The Spurs haven't been able to find the right complement, but luckily Duncan has access to some sort of fountain of youth, and he's been able to do just fine without any consistent help.
The fountain will run out someday though, but the Spurs have to be encouraged by Splitter's play lately. He's managed his way into the starting lineup and is putting in a solid 20-25 minutes per game. He's getting into double-figure points almost every night and usually grabbing about five rebounds per game. He's finally getting to consistently put his big body to use, and it hasn't gone unnoticed.
"Somebody asked me a while back what has he improved in. I said nothing. He just hasn't played," head coach Gregg Popovich said. "What he does for us now healthy is what he's done in Europe for a lot of years. He's been on championship teams over there. He's a defender, a rebounder, a solid pick-and-roll player. He doesn't have moves and he's not a big offensive threat, but he's every coach's dream because he does everything so fundamentally sound."
Whether it is an improved game or just more playing time, Splitter is going to be a huge part of the Spurs' success going forward. The more pressure that is taken off of Duncan will extend his longevity throughout the rest of the season and allow him to continue playing at such a high level. Splitter isn't going to be the star of this team but he's a very important part of the supporting cast.