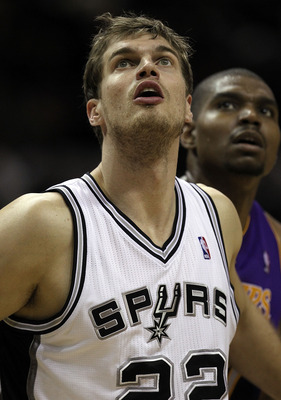 Before heading back to San Antonio for training camp, Tiago Splitter will be in Sao Paulo Brazil to participate in NBA 3X, according to Terra.com.
NBA 3X is a program the NBA puts on to promote basketball through three-on-three competitions, a slam dunk competition, skills challenge and several other activities.
The tournament aims to attract more fans to the sport and promote the growth of basketball in Brazil. "The NBA3X is a great showcase for basketball and fundamental part of the effort Alloy connect with our fans in Brazil," said Philippe Moggio, NBA vice president for Latin America.
Splitter will be one of the celebrities attending and according to the report, Splitter will be part of a basketball clinic. Aside from Splitter, the NBA will have dancers, the Atlanta Hawks mascot and will be showing off the Larry O'Brien trophy.
The event, which was in the Philippines last month will be in Sao Paulo's Villalobos Park from Friday to Sunday.
For the Spurs' sake, let's hope Splitter stays far away from the dunk contest.