The San Antonio Spurs are good. Really good actually. Heading in to this season they were supposed to be good, though probably not this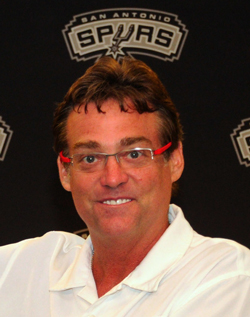 good. It seems like for the last few years at least that's been the case with the Spurs. Everyone expected them to be a playoff team but no one expected them to contend for a title. Yet, here they are, winners of nine in a row for the second time this season and only a game back of Oklahoma City for first place in the West.
Regardless of what Spurs fans think of their team and their players, they're not supposed to be doing this. They have one former lottery pick on the team and that guy is Tim Duncan and he was a lottery pick a really long time ago. The Bobcats have WAY more lottery picks than the Spurs. Because of this, Andy Roth, guesting for SheridanHoops.com argues that Spurs General Manager R.C. Buford should be named NBA Executive of the Year.
"R.C. should stand for the "right choice", since he seems to always do just that when it comes to evaluating talent, in particular when it comes to the NBA draft — but also this year at the trade deadline.
Ginobili was the next-to-last pick (57th overall) in the 1999 draft. Tony Parker was taken with the 28th pick in the first round in 2001, while Tiago Splitter was selected at the very same spot in 2007. George Hill was the 26th selection in the first round in 2008 and DeJuan Blair was taken with the seventh pick (37th overall) in the second round in 2009."
The point Roth made right before those paragraphs is the Buford has never won Executive of the Year. Initially I thought this was really surprising, but when I thought about it Buford has a few things going against him. First, the national media ignores San Antonio. It's nothing new and frankly I'm tired of writing the "Spurs get no respect" angle.
Second and probably more importantly is that most people around the league think Pop runs everything in the Spurs organization despite the fact the Buford was promoted to GM in 2002.
I don't think Buford deserves Executive of the Year this season. I loved the Hill for Kawhi Leonard trade and thought the trade deadline deals were really good, but this season has everything to do with Coach Pop trusting the young guys in his rotation and giving them extended looks. Signing Danny Green and trading for Kawhi Leonard were fantastic moves, but they wouldn't be as fantastic if Coach Pop didn't give them an extended look during this truncated season. Plus, Clippers General Manager Neil Olshey managed to get Chris Paul for an expiring contract, a lottery pick who hasn't shown much improvement this season and a guy in Eric Gordon who has had knee problems left and right this season. One year I hope R.C. Buford does win Executive of the Year, even if it is more a lifetime achievement award. He deserves it.