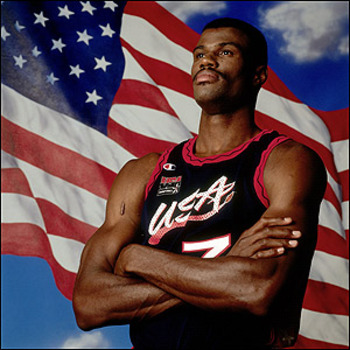 Take one look at San Antonio Spurs legend David Robinson's NBA resume and you can't help but be impressed by everything he accomplished.
There's the two championships, several All-Star selections and being part of the Basketball Hall of Fame. But it's easy to say that among Robinson's favorite memories and one of the things he is proudest of is representing the United States in the Olympics.
Not only did Robinson win gold twice, he was also a member of the Dream Team and played on three U.S. Olympic teams, a feat that was unmatched until this Summer.
LeBron James and Carmelo Anthony now join Robinson as the only players to have three appearances. Like Robinson, their first appearance wasn't their proudest moment, but, also like Robinson, they hope to finish off with Olympic gold.
Canadian website, TSN, says the exclusive club could stay at three members for quite a while.
They're the only men's basketball players from the United States to compete in three Olympics — and with a potential age-limit rule change looming, maybe the last ones.
"We're very humbled from the simple fact that we've been selected once again, but we don't take it for granted," said James, who added that he wasn't aware of the rare three-peat until someone told him. "This is a very select group of guys who get this opportunity every four years and for us to be a part of it for three consecutive teams is an unbelievable feat."
Robinson also chimed in on players sticking around and playing in multiple Olympic games as opposed to years back when several NBA stars dodged the Olympics.
"I think it still has a great feel to it," Robinson said while watching an American practice in Barcelona. "I grew up with the Olympics, so I always thought this was the best, there was no way I would not play in the Olympics. But I think these guys enjoy coming together. This is a tremendous experience for all of them. Looks like everybody's having a lot of fun.
"I would guess, yeah, guys would want to do it as many times as they could."
Although Robinson is now joined by James and Anthony as the only players to three-peat at the Olympics, Robinson remains one of the most decorated United States national team members after being named to the Olympic Hall of Fame and getting his Olympic jersey retired.