After the San Antonio Spurs' 2011 season ended, veteran forward Antonio McDyess revealed that his intentions were to retire. Toronto Raptors forward Ed Davis recalls a story of McDyess from his childhood through the 2011 season.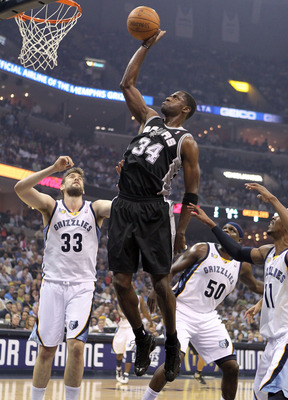 The original article came from the German site Spiegel Online Sport, which was translated through Google Translate.
When Ed Davis, the rookie of the Toronto Raptors meet before a game against the San Antonio Spurs on Antonio McDyess, he laughs out loud: "Yo Dice, you're still here It's time to hang up his boots on the nail?." What? What is allowed Davis? But it is not so bad. The explanation: Ed's father, Terry Davis, played as a center from 1989 to 2001 in the NBA. During his last NBA season, McDyess, and Davis were senior teammates with the Denver Nuggets. There wandered around the little Ed always in the cabin. Anyone who meets an old companion of his own father, may also bring a peaceful times as saying. Especially since the youngster has a lot of talent.
The story reveals an inside friendliness that McDyess had both on, and off the court. For the young Davis to remember McDyess and have a friendly memory of him speaks to the volume of character that McDyess had throughout his career. There's a reason why the Spurs wanted McDyess so bad when he was a free agent out of Detroit, his selflessness and strong character were two of his biggest assets.