The San Antonio Spurs improved to 24-8 after defeating the Dallas Mavericks (12-19) in a heated contest tonight.
The box score didn't do this game justice. Although the game looked lopsided by checking out the score after every quarter, the Mavericks wouldn't stop fighting for a win. Dallas got close to 5 points at one point and kept fighting to get the better of the Spurs the whole game, with the exception of the 4th quarter where the Spurs blew the contest open. San Antonio's depth caught up with Dallas, especially with Dirk Nowitzki's limited game after coming back from injury.
While Tony Parker (21 points, 9 assists, 5 rebounds) and Tim Duncan (18 points, 10 rebounds) took the majority of the minutes from the Spurs Big 3, Manu Ginobili played hero with his big shots down the stretch. It was Manu's hustle and ice in his veins that brought the energy to the bench. Boris Diaw and Tiago Splitter also played big roles in the paint with their rebounding and defense under the basket and forcing the Mavs to take tough shots.
Overall, the Spurs kept making their shots by shooting 50% from the field (42% from the 3 point line). San Antonio also shot an impressive 87.5% from the free throw line (21-24).
Notable:
San Antonio held Dallas' bench to 32 points, well under their 41.6 average
Dallas was held to 14 fast break points, two points under their average
With the exception of Nando De Colo, every other Spur scored in this game
Kawhi Leonard (7) was the second leading rebounder for the Spurs
Stud of the Game: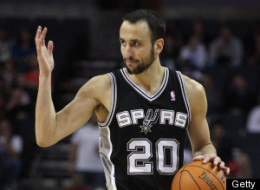 20 points, 5 rebounds, 5 assists, 50%FG in 25 minutes