The San Antonio Spurs (8-2) got back on the winning track tonight at at AT&T Center defeating the Denver Nuggets (4-6), 126-100.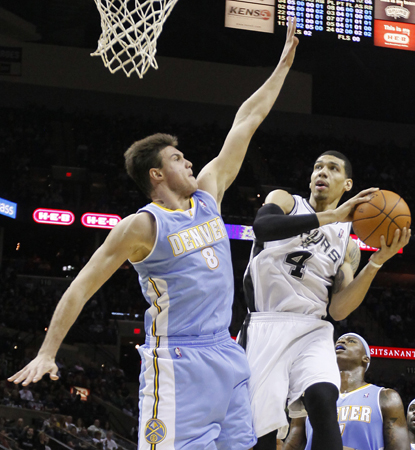 The Spurs were led by Manu Ginobili's 20 points, including his 5-7 shooting night from the three-point arch, and four assists. The Nuggets were paced by Danilo Galinari's 15 points in a losing effort. Andre Iguodala scored a mere nine points for Denver.
Here is how the game went down quarter-by-quarter:
First Quarter
Spurs Stat Leader: Danny Green with 8 points, 1 steal, and 2 rebounds.
Recap: It was a low scoring first and as expected, it was a defensive battle as both teams were contesting shots early on. As both teams struggled to find their shot, and San Antonio struggling with Denver's pick-and-roll, the Spurs finally got things going late in the first with a pair of three-point shots by Danny Green and a coupe of buckets my Manu Ginobili. The Spurs held the Nuggets to 38.9% shooting in the first quarter.
Score: Spurs 33, Nuggets 15.
Second Quarter
Spurs Stat Leader: Tim Duncan with 12 points, 3 blocks, 4 rebounds, 1 steal and 1 assist.
Recap: Ginobili got things going for San Antonio with another three-point shot while Green continued to be a spark for the Spurs with Kawhi Leonard out of action. Denver began to chip away at the Spurs' first quarter lead as they began to nail their shots after a cold-shooting first quarter. However, the Nuggets turned the ball over 16 times which allowed San Antonio to keep their lead.
Score: Spurs 60, Nuggets 40
Third Quarter
Spurs Stat Leader: DeJuan Blair with 15 points, 6 rebounds, 3 assists, and 2 steals.
Recap: San Antonio basically kept the game at arms length from Denver. Blair was punishing Denver by moving without the ball and scoring in the paint. Spurs shot 50% from the three-point line after three quarters.
Score: Spurs 90, Nuggets 68
Fourth Quarter
Spurs Stat Leader: Blair with 19 points, 8 rebounds, 3 assists and 2 steals.
Recap: The lead was as big as 22 in the fourth that coach Popovich emptied the bench playing Matt Bonner, Patty Mills, and Nando De Colo extended minutes. It was pretty much garbage time in the fourth as San Antonio cruised to an easy win at home.
Final Score: Spurs 126, Nuggets 100.
Notes:
• Spurs' biggest lead was 32 points.
• Spurs scored 21 second chance points to the Nuggets' 17.
• Spurs connected on 16-27 three point shots for 59.3% shooting.
Quotes:
"I'm improving. I had a couple of tough weeks where it was really bothering me but my head too but now I think I am getting over it. I am very excited about that." — Ginobili on his back issues.
"Beat them. We owe them. It's going to be a big game for us. They were all hyped about that game because we swept them an they still had the dust pan in the arena." — Stephen Jackson on facing the Clippers Monday night.
"Well Patty, he's a veteran. He's played all around the world and in big games. He loves being on the court. He's a competitor at both ends. He came into the game and again did a good job for us." — Gregg Popovich on MIlls' play versus Nuggets.
"I thought Tony Parker did a great job on defense and really worked hard at it." — Popovich on Parker's defense.
"It was great to see Manu Ginobili get back into the flow." – Popovich on Manu's solid night.
"He understands his role much better than he did last year." — Popovich on DeJuan Blair's night.