NEWARK, NEW JERSEY — San Antonio Spurs second-year guard James Anderson had some expectations heading into this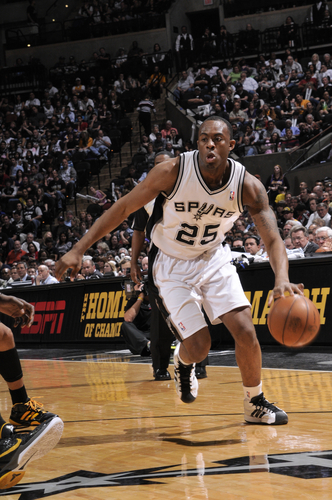 season.
After having his rookie season hampered with an injury (stress fracture in right foot) and being assigned to the San Antonio Spurs D-League affiliate Austin Toros for rehabilitation and to get back in game shape, this past summer, he played well during the Las Vegas Impact League and had many Spurs fans hoping to see him have a breakout season.
Fast forward to this season and after a quick start to the condensed season, his minutes dropped after Danny Green began to find his rhythm with the Spurs and now finds himself getting spot minutes.
However, Anderson is remaining positive and staying ready for the team whenever he is called upon.
While the Spurs were in New Jersey to face the Nets during their East coast leg of the Rodeo Road Trip, I caught up with Anderson to discuss his thoughts on the team, what he is doing to remain positive and ready for action, how he helped Manu Ginobili come back to the court after his hand injury, and much more.
How would you assess the team so far?
I think we are coming together as far as defensively. With Manu (Ginobili) back, that's a huge piece back to the puzzle. We're continuing to put the defense together. I think we are doing a good job so far especially without having any practice. I think if we continue doing what we're doing, putting the defense together, everybody healthy as possible, we can go a long way.
How are you coming along as far as getting back into the rotation?
I feel great just to be out there. Anytime I can get out there, boost some energy off the bench and contribute, it's always great for me and for the team. To get out on the floor and when I get out there to bring some energy to the team.
You know you almost had Kris Humphries on that dunk attempt during the game.
(laughs) Yeah! I had him! I didn't realize how strong he was and I went up pretty hard.
How about your fellow teammate Tony Parker making the All-Star squad and representing the Spurs?
It means a lot for himself and for the organization to have him representing the Spurs. He earned it and he deserves it.
What was the feeling among the team to have Manu come back?
Of course everybody is happy to have him back. Me and Cory (Joseph) were helping him train as far as getting back in shape and stuff. We kind of have been there along with him and you know how Manu is! He is always ready to get out on the floor. He's such a competitor. We're fortunate to have him back.
And how are you doing as far as being ready to get action on the court?
As far as my pregame warm-ups, I'm just going out there, trying to be sharp with my moves and shots. Just trying to stay in shape the best I can. When the minutes comes, I'm just mentally prepared and just go out and bring a spark to the team.
Click HERE for my Q&A with Tiago Splitter and HERE for the Q&A with Cory Joseph.