Rotations are a difficult thing to predict, mainly because injury and the natural hot streaks and slumps of players will inevitably disrupt whatever projection all-knowing sites such as ours conjure up. Potential inaccuracy aside, a Project Spurs fan asked for us to break down the roster and predict estimated minutes and a rough rotation for this season's roster. Soon after Jeff threw a keyboard at me and told me not offend anybody… I didn't make any promises.
The shuffle:
I'll go over the San Antonio Spurs' positional groups (front court, back court, etc), estimating minutes for projected starters and backups, and offering a little analysis on why I think coach Pop will decide to play them that much or that little, as well as analyze what portions of the game they'll be sitting or playing through.
Keep in mind my projections don't mesh one hundred percent with Robby's and Mike's, and they make excellent insights and arguments on the roster as well, so I highly recommend you read their articles as well (if you haven't already) to get the widest spectrum of analysis.
BACK COURT ROTATION (Parker, Hill, Ginobili)
Tony Parker (approx. 35 minutes per – starter)
He'll start and finish games; I can see him taking a sizable sit down during a stretch of the second quarter where Pop will likely have Manu come off the bench for offense, and have Hill run the point. There will also be room to have him get a breather safely late in the third quarter, going into the fourth, or even in the fourth quarter right before that last critical five-to-six minute stretch. Hill's emergence actually does nothing but help Parker because of the flexibility, and breathing room it affords the back-court rotation.
George Hill (approx. 25-30 minutes per – starter)

I believe in a small back-court, with one condition: one of the two guards must be an exceptional defender, with above average length (wingspan, not necessarily height), a solid build, a defensively oriented mentality, and the ability to combine these traits into the result of successfully guarding larger two-guards. Hill, to me, is like the defensive equivalent of an Eric Snow back in the early 2000's for the 76ers. You can legitimately stick him on Kobe Bryant, and while it may not be the optimum match-up, it's not a joke either – you can seriously expect Hill to check bigger, high scoring opponents.
His development in running the offense, and creating his own shots goes without saying. This guy is a play-maker and he needs to be on the floor as much as possible, in tandem with Parker or otherwise. He offers so much offensively and defensively, he's the kind of player you can't keep off of the court, and I don't think coach Pop will try.
Manu Ginobili (approx. 30 minutes per – bench)
I always said, because of the later than usual age at which he entered the league, and because of his physically reckless style of play, that Manu would have a short, but brilliant career. In his wisdom, I think Pop is trying to avoid that. Manu is like a power-up in a video game that is super effective, but overheats and has a recharge period. It's best to use him sparingly, in key situations. At times he'll be the most valuable player for the Spurs, amazingly, they'll have to choose those limited number of times carefully.
Manu will continue to be a second quarter terror, easily outplaying other teams' second units when their starters take their first breathers. He'll also be a staple for the lineup in the last few minutes, probably taking and making big shots down the stretch.
SWINGMAN ROTATION (Jefferson, Anderson)
Richard Jefferson (approx. 25-30 minutes per – starter)
With Manu being the staple of the Spurs bench, RJ still gets to keep his starting spot, and try to prove himself… again.
I don't necessarily think RJ is going to be a finisher for the Spurs this season. His explosiveness and ability to run and score in transition will make him a valuable asset, but I think the best overall lineup for the Spurs in that critical, final six-minute stretch is Parker, Hill, Ginobili. I don't think we'll see the Parker, Hill, Ginobili lineup any other time but during the last few minutes of a close game, and I think that speaks to the lack of trust and chemistry between Jefferson and the rest of the core Spurs players.
I think he'll get heavy first half minutes, and occasionally stay in the lineup down the stretch when his shot is looking good, and he's on a confident roll. Unfortunately for him, I think he'll often get yanked right before crunch time hits.
James Anderson (approx. 15-20 minutes per – bench)
James Anderson is not a sure thing to me, and he represents that "maybe" category of potential that a lot of the new additions fit into. I'm picking high, and being optimistic. He makes a sensible option to back up Jefferson. I think his talent is promising, and while he may start slow, his shooting and scoring ability will make a viable asset to have on the floor for at least a few minutes every game.
He'll start off getting odd third quarter minutes, likely playing with other bench players primarily. As he proves himself, he'll likely get some time early in games, mixed in with the first unit, and may even start to steal some key minutes from Jefferson. Aside from the occasional hot streak that keeps on the floor, I doubt we'll see much of him in critical late game stretches.
FRONT COURT ROTATION (Duncan, Blair, Splitter, McDyess)
C – Tim Duncan (approx. 30 minutes per – starter)
Duncan averaged about 31 minutes per game last season, and I expect to see him play for a similar number of minutes in the regular season this year. The same strategy applies: conserve him for a playoff run, and avoid as many injuries as possible.
He'll probably see early trips to the bench in the first quarter, and rest until middle of the second, and then likely repeat a similar pattern in the third and fourth quarters. Obviously, he's going to finish games, and obviously you want him in there as much as possible, but the long term strategy is to keep him as healthy and fresh as possible.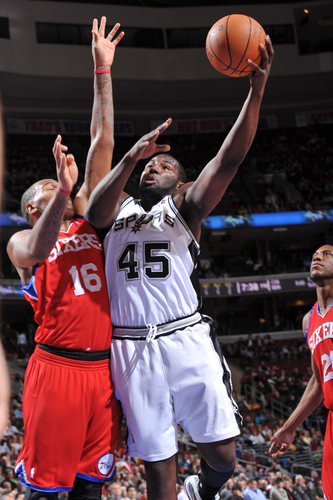 DeJuan Blair (approx. 25 minutes per – starter)
You know how there are some plants that you can just throw on the ground, and they grow, even with no water, or sun, or anything? That's DeJuan Blair. Even if he wasn't a professional basketball player and he just fell out of the stands onto the court, he'd get a rebound on accident, or a loose ball or something. You don't have to call a play for him, or even give him the ball, just throw him out there and good things happen, every time he steps on the floor.
I love Blair coming off the bench for energy, especially in that late first quarter/second quarter stretch where Duncan will likely be sitting, but I also think he'll end up as more reliable over the course of the season than McDyess or Splitter, and that's why I think he'll end up starting a majority of the games opposite Duncan. I think Blair will get heavy first half minutes, but generally sit out in favor of McDyess down the stretch. In match ups where the Spurs need someone to scrap on defense late, or on nights where the Spurs are getting beat on the glass, I can see Blair stepping for some valuable crunch time rebounds.
Tiago Splitter (approx. 20 minutes per – bench)
I think the guy filling out the front court rotation for most of the season will be Tiago Splitter. I think Splitter will have a short, but sour transition period, and then begin to flourish mid-to-late season. I don't think he becomes consistent enough this season to start regularly, but I do think he'll show flashes, and his increasing production – plus a commitment to his development – will get him regular minutes.
I think at the start of the season Splitter is behind Blair and McDyess on the chart and by mid season passes McDyess, but not Blair. I think eventually he'll be Duncan's relief in that first half breather, and occasionally even play with Duncan in second quarters, forming an intimidating shot blocking tandem. If he meshes with Duncan defensively, I can see him starting some games (I'm thinking large front court opposition, i.e: the Lakers), and maybe even finishing a hand full of games.
Antonio McDyess (approx. 15-20 minutes per)
I think McDyess will start the season getting regular minutes, probably even starting, but eventually I think a break out season from Blair, and the development of Splitter will push him into the back of the front court rotation. His shooting ability and savvy, will still make him useful, and I can already see one or two playoff heroics coming from the veteran forward, but during the regular season I expect to see him being conserved, not necessarily playing in every game, and only playing in short stints.
I think he'll start off the season starting, and then become the first option to relieve Duncan early, and then eventually fall into third quarter relief, and occasional stints in the fourth where his shooting may be needed to stretch the defense a little. Quite honestly if Duncan didn't need to be conserved so much, I could see McDyess falling out of the lineup, and if Blair and/or Splitter really steps up to claim those minutes, I imagine we may see limited amounts of McDyess.
SITUATIONAL PLAYERS
Matt Bonner and Gary Neal (approx. 7-10 minutes per)
I feel bad for Matt Bonner. I really like the guy, and I like his game, but I don't see much of a role for him, besides situations that call for extra shooters on the floor, an injury to another front court player, or Splitter looking like a bust (even if only for a few games). He has a lot to offer, and I'd like to see him steal some minutes when the match up is right, but I think his appearances it will be irregular.
Neal should get some minutes if the shots aren't falling down for the regular rotation members. He will also spread the floor a bit and will be deadly from the corner for a timely three-point shot.
OUT OF THE ROTATION: Garrett Temple, Alonzo Gee
While some people have gotten high on Garrett Temple quickly, I think he was a good fill-in for a late season injury, and that's it. I think he has potential, but in a crowded back court where large chunks of minutes will be committed to Parker, Hill, and Ginobili, I don't see a regular role for Temple besides being an effective fill in for injury.
Alonzo Gee has also only been tested in a limited number of games, and furthermore on a struggling team. I like his shot, and given an opportunity I do think he could fill in for a stretch of games, but I don't see him cracking the regular rotation.