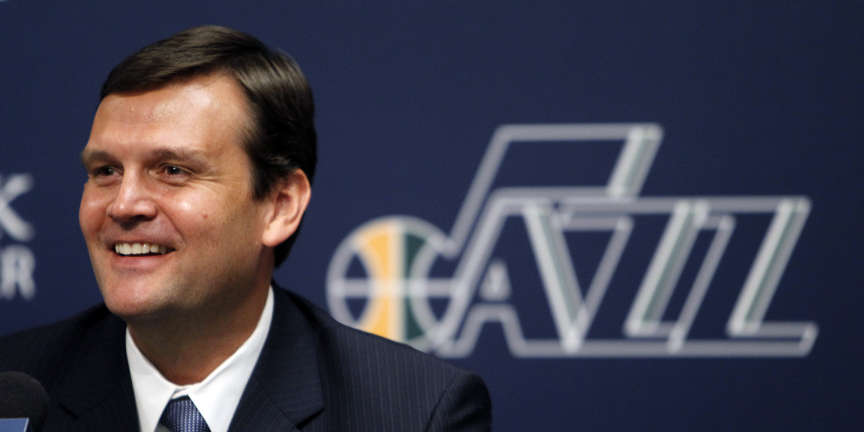 The San Antonio Spurs have now lost three key members of their staff with assistant coaches Don Newman and Jacque Vaughn leaving for New Jersey and Orlando, and they've now lost yet another gem of a front office executive in Dennis Lindsey.
With the success the Spurs have had well over the last decade, it's no wonder that several staff members and coaches have been recruited elsewhere in bigger roles. Sam Presti and Kevin Pritchard are among the notables, along with Mike Brown and Monty Williams, who hired James Borrego away from the Spurs. The Spurs family tree extends across the NBA with several executives, head coaches and assistants.
Even columnist Peter Vecsey noted in a recent column that he'd love a position with the Spurs because it usually turns into promotion within the team or being hired away in a greater capacity.
Spurs coach Gregg Popovich obviously knows his success breeds this type of recruiting from within the Spurs "family," which is probably why he endorsed Lindsey in talks with Kevin O'Conner, who Lindsey now replaces as O'Conner takes on a bigger role in the organization.
O'Connor had long eyed Lindsey and talks between the sides began three weeks ago. He was sold on the ex-Spur after placing a call to San Antonio coach Gregg Popovich. O'Connor asked the man who bounced Utah from the 2012 playoffs who would run a new NBA organization if Spurs GM R.C. Buford suddenly purchased one. Pop didn't hesitate, pointing directly at Lindsey.
"That was all I needed to hear. … We're excited to work together. We're excited to try to take this to another level. That's the bottom line," O'Connor said. "It just felt like the right time for me and the right time for the organization."
Lindsey's hire deepens the link between the Jazz and Spurs, Utah's long-successful small-market counterpart. During the first round of the 2012 playoffs, Buford acknowledged he modeled his career after O'Connor's respected rise. Tuesday, the longtime Jazz GM partially turned Utah's future over to a Buford protege.
As if what Pop said wasn't enough, Buford also spoke highly of Lindsey to the Salt Lake Tribune.
"They're two of the most trustworthy men of integrity I've ever had the pleasure of being around and working around and competing against," Buford said. "The respect that Dennis and our organization share for the Jazz and the Miller family is what was appealing to have Dennis take this final step."
Lindsey spoke to Salt Lake City media when he was introduced oat a press conference Tuesday.
"I have absolutely no worry that Kevin and I can put a great group together and have great chemistry…The nature of my relationship with the players is going to be to cultivate the group. … I'm trying to continue what Kevin and [coach Tyrone Corbin] have started with a new core."
This isn't the first time Lindsey has been considered for a GM job. He said he didn't want to settle or sell himself short and the position with the Jazz was the perfect fit.
Aside from finding a center and looking at possible trade scenarios for DeJuan Blair, Buford and Popovich will have plenty of work in finding not only replacements for their coaches, but a replacement for their biggest loss in Lindsey. But just as the found Lindsey before after another big loss, they'll likely have quite a pool of candidates to choose from and I'm sure they'll choose wisely, knowing their next assistant GM could take over for Buford in the future.