The San Antonio Spurs did some retooling this offseason adding Tiago Splitter, Gary Neal and drafting James Anderson. All three will contribute to the Spurs' success if they can mesh well with the "Big Three" of Tim Duncan, Tony Parker and Manu Ginobili.
The Spurs might have found the right mix of talent and experience to make it back to the top but each of the new players will quickly grasp how most of the Spurs' offense and defense revolves around Duncan, Parker and Ginobili.
Now I'm not a basketball expert but I have followed the Spurs since Duncan arrived in San Antonio and I'm pretty familiar with the Spurs' style of play. So Splitter, Anderson and Neal, if you just happen to be reading this, here are a few pointers, from me to you, on how to play with the Spurs' "Big Three."
Splitter:


1) Be ready to provide some weak side help on defense. If an opponent gets past Duncan's defense, you have to be ready to protect the rim like David Robinson used to.
2) In case you didn't know, Ginobili likes to go left. Try setting screens to free him up and make sure to rotate to the rim for the pick-and-roll. He will find you with a drop pass or a hand-off.
3) With Parker, just create space. He can get to the rim so quick so be ready to set solid picks on top of they key.
It's no secret the Spurs put a premium on defense and this is where you will be of tremendous help. Your length and mobility will make the teams' interior defense better instantly. Although you have to be extra careful as you tend to be a little more aggressive on the defensive end causing you to commit some unwanted fouls. You will be fine after you get your feet wet. Your basketball instincts will take over and your style of play fits right in with the team.
Anderson: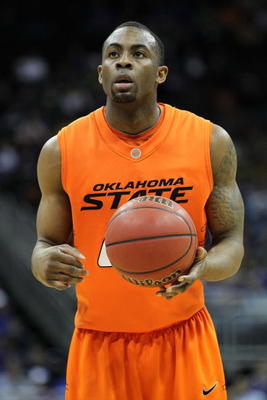 1) Parker loves athletic players who can stay with him on the break. If your conditioning is on par with his and you are ready to run, you can expect quite a few open transition layups this season.
2) Ginobili makes some crazy passes. Whether it's a drive and dish, a kick out or a no-look-pass and if you aren't aware, the ball might find its way right in your face or sail out of bounds. Bottom line is you have to be ready for his passes whether you are lining up for a jump shot or cutting into the lane.
3) Duncan knows a thing or two about passing the basketball. He's good at passing the ball out of the double team so be ready for some open jumpers and if the opportunity present itself for a fast break layup watch out for one of his "touch down" passes. It's right on the money.
Many people believe you can provide an immediate impact. If you can score and shoot for the Spurs like you did in college then this team will be a lot better than most people expected. You are not known for defense, but your size and athletic ability suggest you can be a good defender if not a stopper. I'm sure the Spurs will instill in you a mindset of playing 'D' at all times. Playing with the "Big Three" will present a lot of scoring opportunity on offense but keep in mind the Spurs play hard on defense as well. Best of luck!
Neal:
1) If Ginobili continues to come off the bench, expect a lot of minutes with him on the floor. Be aware he is very good at passing the ball so watch out for the kick out and some crazy behind the backs or no-look-passes from time to time.
2) With Parker, find your way to the corners as he will look to dish out some passes for you to nail the corner three-point shot. Ask former Spurs Bruce Bowen and Roger Mason Jr.
3) As I mentioned before, Duncan is one of the best passing bigs and if he's posting up in the paint, it might be beneficial to line up at one of the corners for a three-point shot. He will draw in the double and this will get you some open looks. Just knock down your shots. Ask George Hill, Matt Bonner, Robert Horry, Bowen or even Steve Kerr.
I was impressed by your play at the 2010 NBA Las Vegas Summer League and your credentials overseas speak for itself. If you can shoot the ball the way you did in Las Vegas, Spurs fans will quickly forget about Roger Mason Jr. If they haven't already. You are NBA ready and your vast basketball experience will help you adjust quickly. Just keep shooting and knock those shots down.
With opposing teams usually focused on stopping Duncan, Parker and Ginobili all you new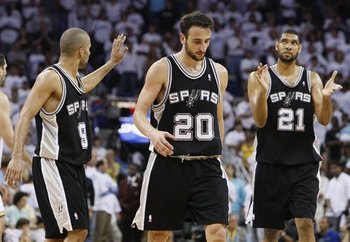 guys should grab the opportunity and make them pay on the offensive end of the floor.
Nevertheless, keep in mind that the Spurs are known for their defense. Focusing your skills and abilities on defense will surely get you more minutes in coach Popovich's rotation. It's too early to tell and I haven't seen you guys play on the court with the Spurs yet but with your basketball skills and potentials, I have high hopes and very excited for the new season to start. I'm pretty sure most Spurs fans are too! I'm keeping the faith that title # 5 will be well within reach before Duncan and Ginobili call it quits with some help from all three of you. 
Thoughts? Do you have some more friendly advice for the new Spurs?