With the news reported that Tiago Splitter may become a San Antonio Spur as early as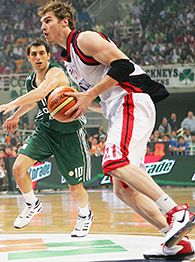 July, fans may begin to wonder how the best European center will compete against his counterparts in the NBA.
 Playing in the Western Conference, Splitter is likely to see frequent action against players such as Amar'e Stoudemire, Brendan Haywood, Dirk Nowitzki, Luis Scola, Emeka Okafor, Carlos Boozer, LaMarcus Aldridge, Kenyon Martin, Andrew Bynum, and Pau Gasol.
Playing against the elite of the NBA, how can Spurs fans expect Splitter to perform?
Splitter is a low-post player primarily.  He has quick feet and good hands. Very similar to what we've come to expect from Tim Duncan in this respect.  He's also well known for a jump-hook that he can execute equally effectively with both hands.  He is also athletic, with the ability to run the floor.  Here's what Draft Express has to say about Splitter offensively:
Splitter is extremely aggressive putting the ball on the floor and creating, showing excellent coordination and fluidity, and emerging as a terrific finisher thanks to his great hands and touch. He's not incredibly explosive around the basket, which may emerge as more of an issue in the NBA (if and when), but with his excellent skill-level and high basketball IQ, he's about as effective a low-post scorer as you'll find at the European level. On top of that, he manages to find plenty of scoring opportunities with his ability to run the floor, play pick and roll with the likes of Pablo Prigioni and Igor Rakocevic, and just find open spots around the basket to catch and finish.
The jump hook is underutilized in the NBA and, as such, players rarely have to defend it.  This will work to Splitter's advantage against many of the players that will be guarding him.  Splitter is said to be 7'0″ in shoes, giving him a size advantage over the likes of Stoudemire, Martin, and Aldridge while evenly matching up with Nowitzki, Bynum, Gasol, and Haywood. 
Splitter's jump shot is not a proven commodity, mostly because he rarely takes them.  When you can average north of 15 points per game on 64% shooting from the low block, you probably don't need to step out and take many jump shots.
As good as the offensive upside is, defense may be his strength. Once again, Draft Express:
Defensively, Splitter is obviously a huge asset as we've discussed many times, as he has the size, strength and length to be very effective in the low post, but is coordinated and mobile enough to step out and hedge screens with great accuracy. The intensity he displays on this end of the floor tends to get him in foul trouble at times, but this is something that his coach will obviously live with. Splitter is seeing better productivity in the shot-blocking department than in years past, particularly in the Euroleague, where he currently ranks second in blocks per game.
 Size, strength, and length.  These are crucial in the NBA.
The Spurs failed spectacularly to pressure Stoudemire in the Phoenix series in the 2010 Western Conference semi-finals. A fact that led to their ultimate demise, particularly with respect to the high pick-and-roll between Stoudemire and Nash in the fourth quarter of each and every game.  In my opinion, the Spurs have always struggled defending the high pick-and-roll when it is run with athletic and mobile big men like Stoudamire.  
Time after time, Duncan failed to handle either Nash on the hedge by sagging too far off, leaving a passing lane the size of the 405 in Los Angeles or Stoudamire when the Spurs guards fought over the top of the screen, allowing Stoudemire to slip the screen for a wide open layup or dunk.  I believe Splitter can be a solution to that problem with his size, quickness, and length.
The days of centers in the mold of Patrick Ewing and Shaquille O'Neil are over. Centers in the NBA are becoming glorified power forwards. Athletic big men that can work from inside out.  I'm talking about guys like Nowitzki, Gasol, Stoudemire, and even Orlando Magic's Dwight Howard that continually give the Spurs heartburn. I think Splitter is built in this mold and will help to eliminate a potentially fatal Achilles' Heel that has plagued the Spurs for a while now.
All the analysis in the world however cannot predict the way a young kid reacts to the bright lights of Hollywood.  Will Splitter's game translate well into the NBA remains to be seen.
The NBA is the golden egg all top players aspire to and Splitter will have to step up if he does accept the opportunity that the Spurs are about to offer him.  If he is the star that I think he is, expect him to knock it out of the park and frustrate the perennial stars of the NBA.