If you're a point guard that's good enough to get into the paint at will, you have to master the floater. No matter how good you are at cutting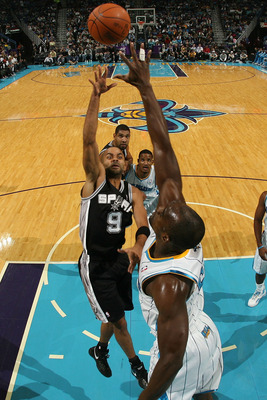 and driving, if you throw up a normal layup, one of those 7-footers waiting in the lane will send your shot into the stands.
The floater has become just another tool in the arsenal of today's best point guards. NBA.com put together a little video called "The Best Floaters in the NBA." They started it off with a little highlight reel of some of the best teardrops from Chicago Bulls' Derrick Rose. I have to say, the reigning MVP probably is the best in the game at that move. Some of the shots he's able to get over a big man and into the basket are just incredible.
Then they asked Rose who he thought had the best floater. He said Rajon Rondo has a great one.
"Rondo, he's smaller, but he's quick, if you get him a step ahead, he can easily throw the floater up on you. He can shoot it from almost anywhere on the floor, and he has great arcs on his floaters, it's hard to guard."
Then the video focused on some of the best from Chris Paul, who also has an uncanny ability to lift the ball over the outstretched arms of a big man.
And that was it.
Sadly, no mention of one of the best floaters in the game from San Antonio Spurs own Tony Parker. Parker has made a living off getting into the lane and managing to score over big men. Tony isn't known for his jump shot, so how else is a little guy going to score as much as he does?
Anyone else think it's a tragedy that TP got left out of this video?