After recovering from his ankle injury last season, San Antonio Spurs' all-star guard,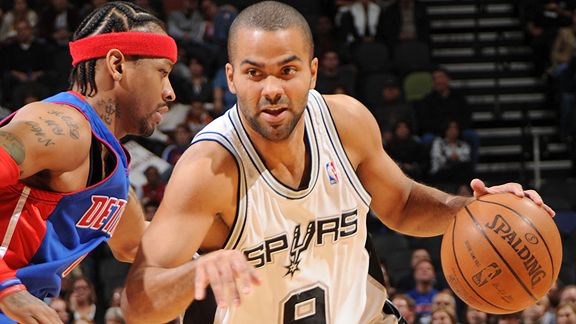 Tony Parker, spent the final few games of the 2010 Spurs' regular season and the entire post-season coming off the bench in relief of George Hill.
This offseason has been fraught with Parker trade rumors, insinuations of his unhappiness at the prospect of a new role with the team, and manufactured drama between the two talented guards regarding who will be in the starting lineup and who will be riding the pine.  In the final months before camp, the roles have yet to be established in any definitive way.
It is hard to imagine Parker, a former all-star in the prime of his career, relegated to bench duty.  Parker is still ranked by some as a top 5 point guard in the NBA and at 28, he certainly has more than a few playing years left.  Additionally, the Spurs have a lot invested in Parker, paying him $12.6 million in 2009 and in the upcoming season, the final year of his contract, Parker stands to make as much as $13.5 million. This likely makes him one of the top five highest-paid point guards in the NBA.  It is hard to imagine someone like this being a regular bench player.
While it is true that Parker averaged six fewer points per game this season than the previous, it is also true that he averaged fewer minutes and fewer shot attempts while maintaining nearly the same field goal percentage.  Ignoring this injury-shortened season, Parker is one of the best point guards in the NBA and in the prime of his career.
Then there's his potential replacement, Hill.  Few would argue that Hill is a complete player in his current state, ready to carry a team to an NBA Championship.  Hill has
impressively exceeded all expectations.  But his playoff performance as a point guard left much to be desired.  Hill had only 7 assists in 10 games compared to Parker's 54 assists in fewer minutes played, making a tough case for being the team's starting point guard.  I think Hill, who shot nearly 40% from the 3-point line in the playoffs has a much better case for the starting shooting guard slot – a position that arguably has less pressure for a young player and one that his skill set is much better suited for.
Hill, for his part, has the right attitude on the situation.  Here's what he had to say when asked about his role with the team and the situation with Parker:
"Whatever Coach Pop needs me to do," that's what I'll do," he said. "Whether it's playing the point guard position and starting, or playing the two-guard position and starting there, or coming off the bench. Whatever he wants me to do to help this team win ballgames, that's what I'm down with."
"All the accolades, starting or whatever, doesn't mean anything to me. I just want to win and be the best teammate possible, the best player possible. Everything they say for me to do, I'm going to take it and run with it and do the best I can."
Parker would not have lost the starting job if not for his injury last season.  Outside of that, there was no movement to substitute Hill for Parker.  Injury and fatigue have been issues for the Spurs' international players in recent years due, some say, to the fact that they play so much more basketball outside of NBA competition than the average NBA player does.  Not this year.
Both Manu Ginobili and Parker are sitting out international competition during this offseason.  Again, it is hard to fathom how a player who has done as much as Parker, returning
healthy and well rested, will not also return to the starting lineup.
Hill is an incredible player with ridiculous potential.  He may in fact be ready to lead a team right now.  But when you have a player on your roster with the talent and experience of Parker, you have the luxury of not tossing a young, talented player into the deep end to see if he sinks or swims.  Hill is almost certainly the Spurs' point guard of the future. When Parker's playing days are over, he will be ready to take the reigns.  Until that day comes however, Parker and Hill are more valuable together than they are apart.