Austin Toros forward Michael Joiner is a four-year D-League veteran and in his second season with the Toros. He has agreed to write an "On the Road" series for Toros Nation and this is his fourth post.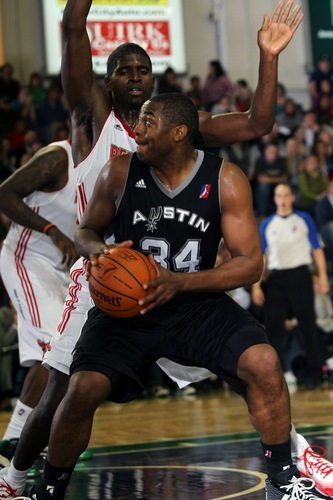 By Michael Joiner
Back after a commercial break. The new part of the season has officially begun. In this post, I will feature a few themes such as newness and homecoming. This afternoon we came together for the first time after being on the NBA ALL-Star break. It was competitive and good seeing one another again.
We have a total of 17 games left. That was news to my ears. Time passes quickly, right? Other things that are new is some music by Wiz, Bruno Mars, and other things. While writing this, I am watching at the all star game while busing to Dallas for our Monday night game against the Texas Legends.
I'm glad I get a chance to watch the game. It should be an exciting one. Shout out to my teammate Lance Thomas with his Gain Greene Adidas! Marcus Cousin represented the team well at the All Star game as well. I think he only missed two shots. (Ballin!)
Another new thing for the team is that we have a new season starting. It's the second half so this is where all teams are trying to finish strong and position themselves in the playoffs. This is a homecoming for four on the team, Coach Taylor, Jermaine, Moses and Steve, our manager. All are from the Dallas area. It should be a good game. Signing out.
P.U.S.H. Mode…Success is what I am after.
You can watch Joiner and the Toros take on the Texas Legends at 7 p.m. tonight on Fox Sports Southwest. If you have any questions for Michael or would like to comment on his posts, feel free to comment below or email ontheroad@projectspurs.com and we'll be sure to get your questions/comments to him. Follow Michael on twitter @mjborn2win.