Former San Antonio Spurs assistant coach Mike Brown was recently named the head coach of the Los
Angeles Lakers following the footsteps of coaching legend Phil Jackson.
Brown will be under the spotlight next season as he tries to salvage a poor ending to the Lakers season while patrolling the sidelines of one of the most high-profile coaching jobs in the NBA.
No pressure right? Well leave it to former Spurs player Steve Kerr, to lighten the mood for Brown as he is about to venture into his new coaching gig:
"It's funny you say that because I texted Mike Brown last night," remarked TNT analyst and former Phoenix Suns general manager Steve Kerr. "I played for Mike in San Antonio.
"And so, I texted him, 'Congratulations. At least you don't have very big shoes to fill.'"
"He got a kick out of that," Kerr said, laughing.
Kerr went on to say there will be much scrutiny placed on Brown but feels he has the guts to handle it:
"He's obviously well aware of what he's getting into. But the way I look at it: You'd rather have pressure and talent than no pressure and no talent.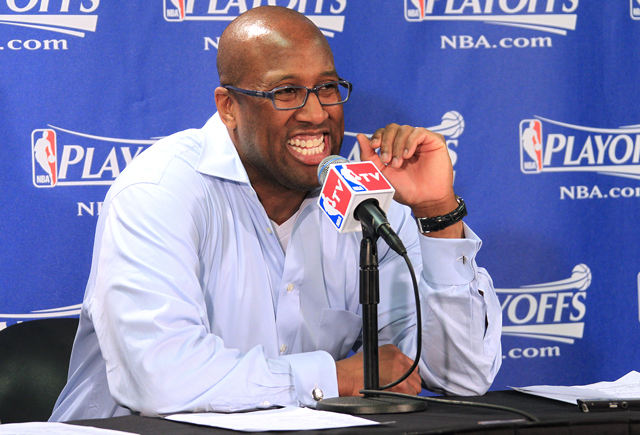 "It's a glamour job — one of the best jobs in sports. You just go into it knowing that you're going to get hit hard. There's going to be a lot of criticism and scrutiny. If you can't handle that, then you're probably not right for the job anyway.
"Mike's got guts. He's not afraid of anything like that."
"Just taking the job, in and of itself, shows that he's got guts," Kerr said.
Indeed Brown will have a daunting task ahead of him in Los Angeles but he comes with a solid coaching resume which includes a trip to the 2007 NBA Finals and more importantly, his experience with the Spurs under another coaching legend, Gregg Popovich.