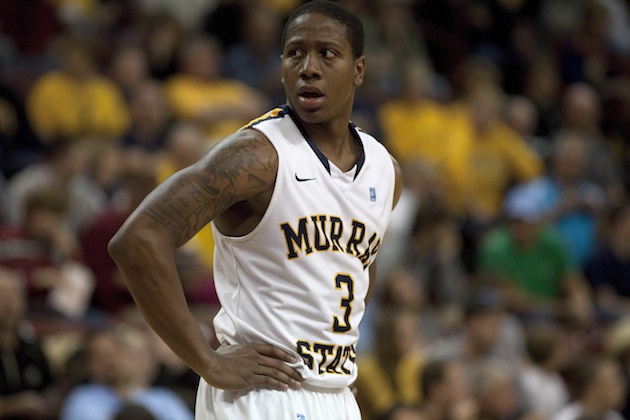 The NBA Draft is just 24 days away and the San Antonio Spurs continue to work out players projected as late first round to mid second round picks. However, instead of bringing in another swingman, the Spurs worked out Murray State point guard Isaiah Canaan.
Charles Gardner of the Milwaukee-Wisconsin Journal Sentinel writes that Canaan paid a visit to the Spurs prior to working out with the Milwaukee Bucks. Canaan averaged 21.8 points per game in his senior season for the Racers on 43 percent shooting and 37 percent shooting from 3. That was a down year for Canaan, who shot 46 percent from 3 last year. He is two time reigning Ohio Valley Conference Player of the Year and second team All American last season. Technically he's a point guard, but only averaged 4.3 assists last year. He'd be a great shooting guard if he weren't 6'1".
So that's why he's fringe first round pick, but he's a very good scorer and has a good chance to be a rotation player for a team despite his size. He's been getting a lot of buzz this spring as teams look for the next Damian Lillard, that Mid-Major diamond in the rough that can make an immediate impact on a team. Given his relative advanced experience and age compared to the rest of this year's point guard class, Canaan could be a sleeper that helps a team right away.
Having said all that, Canaan seems to be a questionable fit on the Spurs. Yes, Gary Neal is a restricted free agent, Patty Mills can opt out of his contract at the end of this season, but there seem to be bigger needs at the wing and post positions. Still should the Spurs feel comfortable letting Neal and Mills walk, Canaan has the profile to be a good replacement for either, though he is about three inches smaller than Neal.
The fact of the matter is, when you're in the NBA Finals you have a late first round draft pick and ideally you have a roster with few holes. Sometimes this allows you to take the best talent available. This might be exactly what the Spurs are doing, looking at who might be the best talent available with the 28th pick overall regardless of position. Canaan is currently ranked 33rd on Chad Ford's Big Board and is 43rd on DraftExpress'.