This month you'll be seeing a handful of NBA teams wearing throwback uniforms to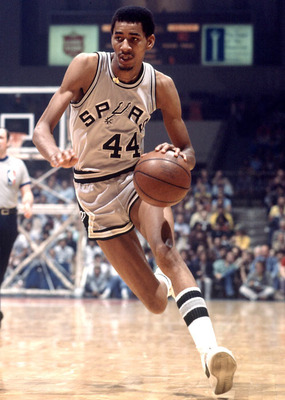 commemorate the 45th anniversary of the ABA. A lot of people watching the games and all the players playing in them aren't old enough to remember the founding of the ABA, but a few of them know their history.
Some of the greatest basketball players ever played in the ABA, Dr. J, Moses Malone, Rick Barry and of course, San Antonio's own "Iceman" George Gervin.
When the ABA merged with the NBA only four teams were added, but this month is all about remembering all the teams that ever played in the league. While the Spurs' Richard Jefferson didn't have a clue who the Texas Chaparrals were, he still paid homage to the players that came before him.
"The ABA was a league, and it was no different than the AFL and NFL joining," Jefferson said. "It wasn't like there were two separate entities. You had superstars in the NBA and superstars in the ABA, like George Gervin and Dr. J. Just because they adopted the NBA name doesn't make it disappear. It was two equally talented leagues joining."
Most current NBA players could probably only list off a few players, maybe a couple of teams and tell you that the ball they used in the ABA was different colors, but they'll be honoring those guys nonetheless. This just serves as a reminder that basketball has a lot of history, it's definitely worth checking out.