As first reported earlier this month here at Project Spurs, we been keeping an eye on San Antonio Spurs'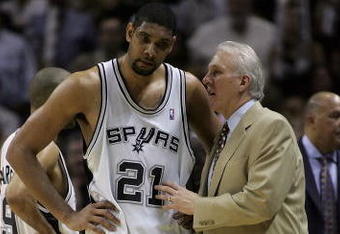 head coach Gregg Popovich and forward Tim Duncan reaching personal milestones in their NBA careers. Here were the last two updates which you can read here and here.
Here is the latest.
Popovich is currently third in the all-time list of most coaching wins with one team with 782 victories. In first place is former Utah Jazz coach Jerry Sloan with 1,127 wins and in second place is Boston Celtics' former coach Red Auerbach who has 795 wins. Popovich needs 14 more wins to move into second place.
Duncan is currently 11th on the all-time NBA career blocked shots list with 2,345 blocks. With 12 more blocks, he will move into the top ten surpassing former NBA player Alonzo Mourning who registered 2,356 blocks.