It's safe to say the San Antonio Spurs- Dallas Mavericks rivalry has been fading lately. The Mavs have slipped down the Western Conference ladder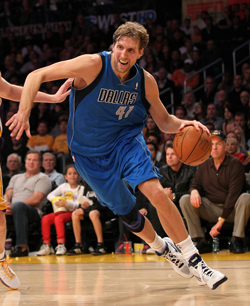 and the two teams haven't met in the playoffs since the first round in 2010 when the Spurs knocked them out despite being the seventh seed.
The Mavericks haven't aged as well as the Spurs and they won't be contenders to come out of the West this year. I have my doubts they'll even be a playoff team, but that may be a little too harsh.
One thing that's surely not going to help their case is the early season loss of Dirk Nowitzki. It was announced last week that Nowitzki is expected to miss six weeks after having arthroscopic knee surgery.
Despite the bad news of losing their franchise player, the Mavericks are staying optimistic, hoping he may be able to return earlier than expected.
"It's still too early to say for sure that an early return is definite. A source said that the next few days will indicate whether the swelling returns and how the knee responds to the procedure. If all goes well – and given Nowitzki's propensity for early comebacks from injuries – it's possible he could return a couple weeks earlier than the original estimate."
The Spurs don't play the Mavericks until late December, so early return or not, Dirk's injury won't affect his games against San Antonio (unless there are lingering effects, of course).
If the Mavericks want a shot at the playoffs this year, they'll need Dirk back as soon as possible. Regular season games are becoming a lot more valuable with the talent continuing to grow in the West. Dallas can't afford to be dropping too many early on.