The perennial question for the aging San Antonio Spurs has been how to manage the minutes of the "Big Three" while pushing for playoff seeding and home-court advantage down the stretch. Manu Ginobili in particular has been known to show signs of wear-and-tear in the playoffs as well as being somewhat injury-prone late in the year.
No one plays harder than Manu on the court, so does coach Gregg Popovich make his team vulnerable to late season trouble by pushing Manu this early in the year?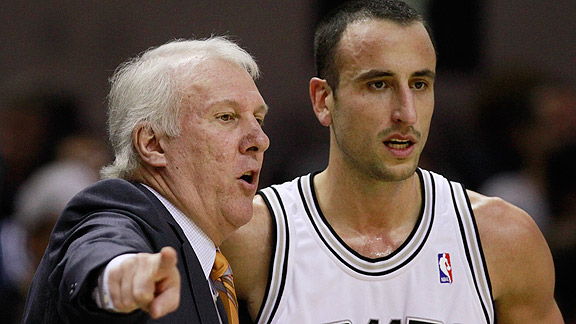 The Spurs are off the the best start in franchise history and, while it is still early in the season, it's worth examining.
Manu is playing more minutes so far this season than he has in his career with the Spurs. Prior to this season, the most minutes Manu has played per game was 31:06 in 2007-2008. At 32:00 minutes this season, how will a change in playing time affect Manu down the stretch?
An important factor to consider in examining the potential harm to Manu's health is Manu's time playing basketball in international competition. In most of the previous years, Manu has spent his NBA offseason playing for Argentina in some capacity. Such year-round competition has a significant effect on the body. While the rest of his teammates are resting and recovering from an 82-game NBA season, Manu is competing against the world's best.
This summer however, Ginobili decided to take a well-deserved break from international play to rest his ailing body after an injury-plagued season last year and the year before.
How big of a role this will play in Manu's durability is hard to quantify. A younger body can put up with more wear-and-tear but as he gets older he required more time to recuperate. Will this break in his schedule merely help him to maintain or give him an edge and an energy that he has never had before?
Only time will tell for sure, but there isn't any question that it will have some kind of positive effect on his performance this season. The danger is in Pop relying so much on this new-found energy in Ginobili that he pushes him to his limits too early in the season – pushing him further than he has ever pushed him before, even in his younger years.
With the team off to such a blazing start, it may be a good time to slow down the pace of the starters. The Spurs are a deep team this year and the young guys can benefit from early season experience. It is common knowledge Pop isn't concerned with accolades like best record or winning 70 games. Maybe the start has given him the opportunity to keep Manu fresh for the late season push that will undoubtedly be necessary in what is arguably the most competitive division in the NBA.
Will Pop take my advice? I'm not holding my breath.