In preparation for drafting from a lackluster draft class on Thursday night, the San Antonio Spurs have been running the gamut of draft prospects to find the players who's names will be called with the Spurs' 29th and 59th selections in the 2011 NBA Draft.
The Spurs have worked out higher-profile players, like USC's Nikola Vucevic to relatively unknowns, like Mathew Bryan-Amaning, because there's no telling where anyone will end up after the first four or five picks.
This past weekend, they brought in guard Shelvin Mack for his third workout and forward Scotty Hopson for his first. As we reported last week, Villanova's Corey Fisher was also in town working out with Mack and Hopson.
I've written about Butler's Mack after his previous workout with the Spurs. He's a 6-2 combo guard with good range and an excellent mid-range game. He can pull up and uses his strength and size to his advantage to drive inside. He seems to be in the mold of a Deron Williams or Chauncey Billups, both stocky, strong point guards. In Mack's case, he's more of a scorer.
Unfortunately for Mack, 6-2 combo guards seem to be a dime a dozen nowadays, but he has a few unique characteristics in his shooting ability, size and leadership that explain the Spurs' interest.
While Mack may not be tall enough to play major minutes at the two, his 6-8 wingspan allows him to play bigger than his height and combined with his build, the Spurs could see him as someone that could be transitioned into becoming a good defender. It's no secret the Spurs brass have had defense on their minds, with defensive stalwarts like David Lighty and DeAndre Liggins among several others coming through town for workouts.
Mack is currently slated to be drafted in the early second round. He likely won't fall to the Spurs at 59 and there are better candidates at 29, so they'll either have to trade up higher in the second round or take a risk on drafting him very early in the first round if they want him badly enough.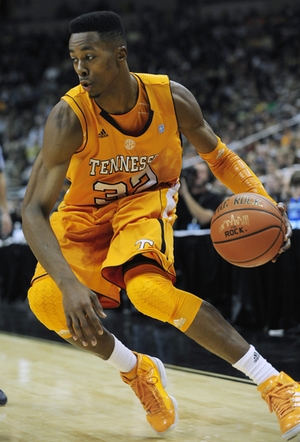 Hopson is an athletic 6-7 swingman out of Tennessee. He is considered one of the best athletes in the draft. He has always been considered a top level talent, but Hopson's inconsistency has hurt him most in his college career.
He is a very capable shooter and slasher and has the tools to be a very good all-around player, but has the tendency to disappear for long stretches of time. He has a very good first step and has the speed to blow by defenders. For Hopson's size and speed, and with a 6-10 wingspan, he has the tools necessary to be a very good defender, but seems to be more concerned about offense.
While more than a few red flags pop up when considering Hopson, he has the talent and a good base to build off of, but will have to work and be hungry enough to want to improve.
Unfortunately for Hopson, he will most likely be drafted in the mid-to-late second round. But don't tell him that. In an interview with DraftExpress at the Draft Combine, Hopson says he expects to be drafted in the lottery and projects himself to be, if not a superstar, a sure shot to be an all-star in the NBA.
As one NBA executive said, Hopson seems to be on a different planet than the rest of us.
Mack and Hopson seem to be at opposite ends of the spectrum, but they are just a sample of some of the players the Spurs have brought in and a representative of the many players that could be available at 29 and 59.