AT&T Center – As the San Antonio Spurs and Golden State Warriors prepare to begin the opening game of the second round on Monday, Warriors head coach Mark Jackson doesn't see his team as having any pressure on their shoulders.
"No there's no pressure," said Jackson on Sunday, a day before the Warriors face off against the Spurs. "We're playing with house money," continued Jackson, "there's no pressure."
Jackson went on to say that most experts didn't pencil in the Warriors, a number-6 seed, on the list of the final eight teams representing the Western Conference. Jackson said the Spurs have the advantages in coaching, the team, and should be labeled the "favorite" in the series.
"This is definitely a tougher task," said Jackson of facing the Spurs, "(but) one we're excited about."
The Spurs and Warriors went 2-2 in the regular season, and though it's the playoffs, Jackson says the Spurs know exactly who the current Warriors are.
"Pop (Popovich) and his staff know what we're trying to do," said Jackson, "there's no secrets."
As for what has changed from the Spurs since the last time the Warriors saw them, Jackson mentioned health and the ability to run the fast break.
"They're healthier," said Jackson of the Spurs, "they're the number one fast-breaking team in the first round."
The Spurs also finished the first round with the least amount of turnovers per game. A statistic Jackson says will be in their favor. "They don't beat themselves," continued Jackson on the Spurs. "With this team, they execute you to death."
One player who will be a concern for the Warriors' defense will be Spurs point guard Tony Parker. "I thought this year he had every right to be in the MVP discussion," said Jackson of Parker.
Limiting Parker will be another challenge for his defense, and that role will go to both Stephen Curry and Klay Thomspon said Jackson. "We'll figure it out; both of them will have opportunities."
Going down the line of Spurs key players, Tim Duncan was also mentioned by Jackson. Jackson says his center and frontcourt will have a difficult task facing the future Hall-of-Famer in Duncan.
"Our biggest baddest guy is Bogut," said Jackson. "We got him for a reason." Jackson mentioned Bogut, Festus Ezeli, and Andreis Beidrins as players who will get their chance at defending Duncan. Jackson also called Spurs 6th man Manu Ginobili a "wild card" off of the bench.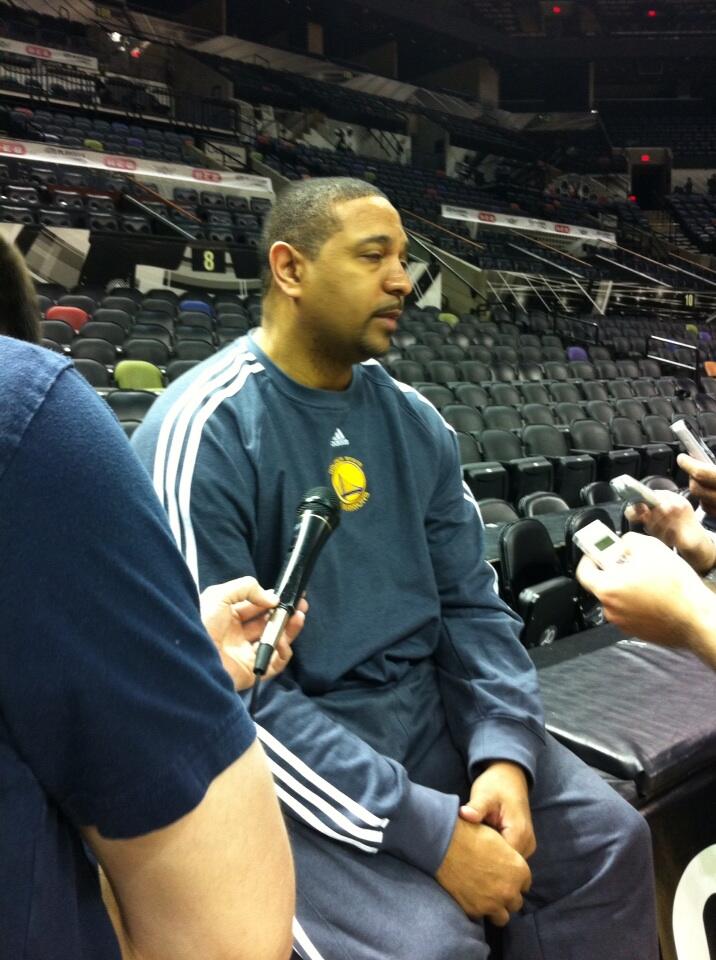 As for David Lee, who made an inspirational return from a thought-to-be season ending hip injury, Jackson says Lee will be "active" but listed as day-to-day.
As for Jackson's own flashy point guard bringing with him a lot of buzz coming into the second round, Curry, Jackson had some proud words of his star point guard.
"He's had a great year," said Jackson of Curry, "He's put us on his back. He deserves this. He's an all-time great shooter."
Lastly on Jackson's part, though his Warriors gave up 103 points per game to the Denver Nuggets, he says his team is a "defensive minded team" and their key in the series will be "protecting the paint."
The Warriors have the ability to play solid defense as evidenced when they held the Nuggets a few times to less than 20 points in a quarter, but they can also easily give up more than 30 points in a quarter.
Jackson and his Warriors are playing with house money in this series, the question is will they play like the underdog they're supposed to be, or will they challenge the "favorite" in the series and put them on their heels? Beginning Monday, we'll start to find out.
Tweets by @24writer !function(d,s,id){var js,fjs=d.getElementsByTagName(s)[0],p=/^http:/.test(d.location)?'http':'https';if(!d.getElementById(id)){js=d.createElement(s);js.id=id;js.src=p+"://platform.twitter.com/widgets.js";fjs.parentNode.insertBefore(js,fjs);}}(document,"script","twitter-wjs");