Marco Belinelli, shooting guard
New contract: two-years, $6 million
2012-13 per game averages: 25.8 minutes, 9.6 points, two assists, 1.9 rebounds, 1.1 3-pointers, 1.1 turnovers, 0.6 steals.
Former team: Chicago Bulls
Before any news outlet could report on the negotiations, the San Antonio Spurs had already inked Belinelli to an affordable deal given the skillset of the 27-year-old Italian swingman. Belinelli
reportedly passed up three better offers
from non-playoff teams to sign with San Antonio because he was enamored with the culture of the Spurs' organization, according to Eric Pincus of the Los Angeles Times.
So what does this mean for the Spurs? ESPN's Marc Stein reported yesterday that this likely means the departure of Neal, whose price tag has became too prohibitive for R.C. Buford. Belinelli, a year younger than Neal despite three additional years of NBA experience, will presumably step into his role. Neal averaged 21.8 minutes a game last year, and functioned as a secondary ball handler. The role encompasses the occasional dribble drive, making sure the Spurs' motion offense isn't inhibited by the defense and knocking down the occasional spot-up 3-pointer. Belinelli, for the most part, should replicate Neal's duties at around the same efficiency. (Despite Neal's "chucker" moniker, he and Belinelli have similar shooting efficiency numbers.)
With Manu Ginobili at the tail end of his career, Spurs coach Gregg Popovich will be whittling his minutes even further this season — sacrificing raw output for efficiency, in the hopes that Ginobili will not wear down at the end of the season. This makes Belinelli's role that much more significant.
Belinelli also isn't quite the defensive liability compared to Neal, who routinely meandered on the perimeter, and made more than his fair share of fatal mistakes. But he's not necessarily a plus on that end, either. Chicago's defensive efficiency decreased by 3.4 points per 100 possessions with him on the floor last year,
per NBA.com
; Chicago's vaunted defense was merely average.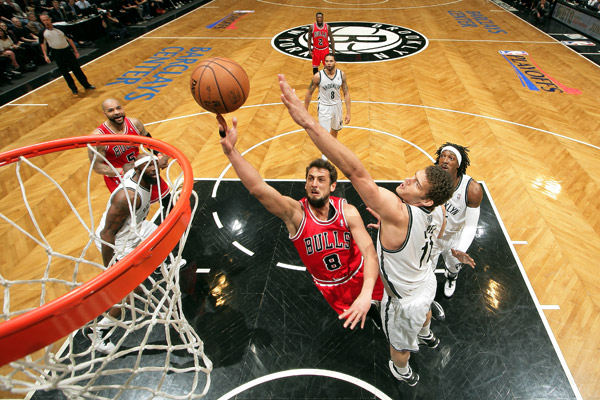 One more potential blemish, if it's even one: Belinelli made just 13 of 48 tries (27.1 percent) from the corner last season, and that's a high efficiency area that Popovich likes to exploit. That, of course, may be a one year outlier; Belinelli is a career 40.3 percent shooter from the corners, in six seasons, and that rises to 42.3 percent if you eliminate last season. He's also been a proficient shooter on above the break 3-pointers, and those are still plenty important because it forces the defense to respect every part of the floor. Belinelli made 39 percent of these attempts on a hefty 169 attempts last year. He's also a passable mid-range shooter, though he didn't show it last year (34.2 percent on shots between 16-24 feet).
Belinelli was optimized in lineups where he was surrounded by at least three plus defenders, and a shot creator. Tom Thibodeau employed these lineups quite often — one such example, includes Nate Robinson, Jimmy Butler, Taj Gibson, Joakim Noah and Belinelli, that crushed the opposition by 20.3 points per 100 possessions in 129 minutes. It works, because it gives Belinelli a safety cushion on both ends of the floor, and that is comfortable medium that suits him quite well. He wasn't quite as effective with Carlos Boozer and Kirk Hinrich on the floor, because he needed to exert more energy on both ends to compensate for their shortcomings. San Antonio can replicate this environment with a lineup including Tim Duncan, Tiago Splitter, Kawhi Leonard and either Tony Parker or Ginobili. It won't be a featured lineup but it figures to be a positive lineup, nonetheless.
All in all, this is a deal with little risk and a potential pay off that likely exceeds the yearly amount.
Grade: A-
Manu Ginobili, shooting guard
New contract: two-years, $14 million
2012-13 per game averages: 23.2 minutes, 11.8 points, 4.6 assists, 3.4 rebounds, 2.2 turnovers, 1.3 steals.
Former team: San Antonio Spurs
Guys who average 12-5-3 during the regular season aren't typically paid seven million per year, especially if they are 11-year veterans that will turn 36 this season. Ginobili, however, just may be that exception. His detractors will point to his abundance of turnovers — nothing proving more costly than the 12 turnovers he doled out in the Game 6 and 7 of the NBA Finals — and his declining efficiency; Ginobili made 42.5 percent of his shots last year, his lowest such figure since 2003-04, when he was 25 and still adjusting to NBA athleticism.
Ginobili isn't quite the defensive force that he once was, either. He still generates his fair share of turnovers, finishing with a steal on 2.9 percent of opponents possessions according to Basketball Reference, but he isn't as rangy and his frequent gambles are much more dangerous nowadays, since he can't recover as frequently at his current age. The steals are a positive byproduct, he posted a career low steals percentage in 2011-12, and the Spurs were actually 1.4 points more efficient on defense when he was on the floor, per
NBA.com
.
Still, he wore down towards the end of the year and that's worrisome. Ginobili played 60 out of 82 games during the regular season, averaging a near career low 23.2 minutes per game. If that's more than he can handle, then how valuable can he truly be, if he can't even sustain 20 minutes a night? (Side note: Ginobili assisted on 30.6 percent of the Spurs' possessions last year. Only 26 players finished with an assist more frequently, so he is still a productive shot creator, despite his physical limitations.)
It's an overpay, no doubt
. Ginobili is a local icon and San Antonio paid a heavy price for keeping him in town. It's a move that Duncan, Parker and Popovich will be happy with, and though Ginobili is no longer an elite player, he's a heady player that won't continue to make the same mistakes. Expect Ginobili to realize his limitations, avoid pressing the issue, and make the most of his strengths.
Grade: B-
Tiago Splitter, center
2012-13 per game averages: 24.7 minutes, 10.3 points, 6.4 rebounds, 1.6 assists, 1.2 turnovers, 0.8 blocks, 0.8 steals.
Former team: San Antonio Spurs
I posited a small query on Twitter immediately following the Splitter deal to gauge fan reaction. A few Spurs fans responded, and some hated the deal. On a scale of 1-10, with 10 being the best, some gave the deal a "1." Others were more optimistic.
I already
explained why the Spurs should retain him
in this space a few days ago, so if you want the full reasoning check out the link. The jist of my rationale: Splitter is a talented two-way big, and the NBA market dictates that these guys should be heavily compensated, unfairly or not. It's why Andris Biedrins signed a six-year, $54 million contract a few years ago despite being an offensive liability. (That contract is still killing Golden State to this day, and is an underrated subplot of their pursuit of top free agent Dwight Howard.) It's why JaVale McGee and DeAndre Jordan, athletic beasts with limited offensive games, will both earn at least 11 million next year. It's why Charlotte inked Al Jefferson, a rumored Spurs target, to a three-year, $41 million deal yesterday. There's plenty of other examples of large deals given to above-average big men with their share of flaws. The average NBA salary for power forwards, for example, was $8.8 million last year.
Splitter isn't a special player and his success, in part, can be attributed to the Spurs system. When Duncan retires, and he'll almost certainly do so before Splitter's contract expires in 2016-17, he won't be nearly as valuable. Splitter needs Duncan to shoulder the offensive load, otherwise his offensive issues (finishing at the rim, creating offense consistently) will be exacerbated. Duncan, however, also needs Splitter to check other big men and defend the pick-and-roll, since he isn't mobile enough to handle the task himself. The Splitter-Duncan duo is interdependent on the other, and when they shared on the floor last season, the results were ridiculous. (In a good way.) Until then, though, the Spurs have locked up a serviceable tertiary scorer that also understands the foibles of the Spurs' defense, and does an excellent job covering for his teammates. It may look like a bad deal down the line, especially if it hinders the front office from acquiring another piece to surround Leonard and company. That time has not come yet and Splitter will keep the Spurs' championship window open, albeit slightly.
Grade: B