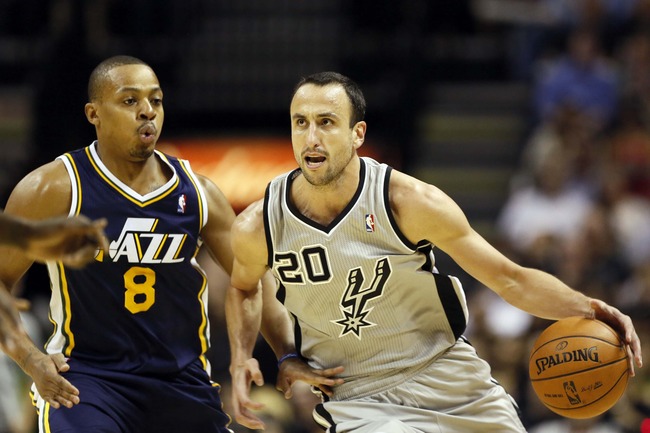 In the age of social media, the gap between NBA players and fans is bridged bringing fans an even closer look at their favorite athletes.
For San Antonio Spurs guard Manu Ginobili, that rings especially true since he has an active twitter and Facebook account and posts photos from several photo sharing sites. But while you may know what Ginobili is having for dinner or his excitement over wearing the new gray uniforms recently, some of his background and even some of the questions we've all wondered are left unanswered.
That's where Spurs.com has been stepping in with their series of mailbags on the team site lately. They recently published part three of Ginobili's mailbag session where the guard answered questions about his choice for jersey number, what he'd be doing if he were not an NBA player and what he treasures most between his championship rings and Olympic gold medal among other questions.
One little known fact about Ginobili is the day he was introduced to San Antonio media in an event I covered, he was presented with a jersey bearing the number six on it. Yes, the same number six that Avery Johnson wore in San Antonio and that many expected would be retired and eventually was.
Although he wore the number overseas, it would be short-lived, as the Spurs asked him to select another number. So just how did Ginobili come up with the number 20?
I chose the number 6 because that was my previous number in Italy, but that was Avery Johnson's number. I chose number 10, that was my previous number before that, but R. C. (Buford) said Speedy Claxton chose that number a week before I signed. He said please try and give me an answer by 5 pm, and it was already 2. I don't know, I guess I just liked the number and thought it looked good.
Speaking of numbers, Manu Ginobili, the all-star future hall-of-fame shooting guard could have been Manu Ginobili the CPA had he chosen another career path. Luckily for Spurs fans, he favored the hardwood over the likes of a Texas Instruments financial calculator.
Ginobili said he always liked numbers, and although he thought about studying accounting or management, he knew as a teenager that he would be a basketball player.
Along with other questions, Ginobili said teammates Nando De Colo and Kawhi Leonard could be breakout players for the Spurs this season.
We don't have many new players, but Nando is a great player who's going to be fun to watch. He loves to pass and has a lot of talent, he always adds a little spicy to every pass. Kawhi is someone who is going to play a lot and get even better.
For Manu's thoughts on comparing his three rings and his Olympic gold to his thoughts on what the Spurs need to improve, read the full mailbag at Spurs.com.