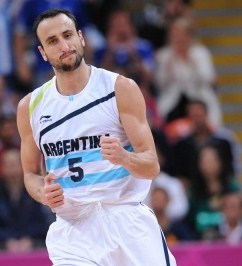 As France and Argentina prepare to tipoff in just a matter of minutes in what will be the first time San Antonio Spurs teammates Tony Parker and Manu Ginobili face each other in international play, Ginobili says he is well aware of how tough of a matchup France will be.
Although Argentina played well in a friendly against the United States and they beat Lithuania handily in their first game, Ginobili says aside from having an athletic team with good defenders, Tony Parker is still France's biggest threat, regardless if he is or isn't in playing shape.
"They are good defenders, athletic, great. They have a destabilizing player like Tony [Parker], I've seen him play over the years," Ginobili wrote in his online Olympics journal on CanchaLlena. "It will be a tough game game. We always try to play five against five, and control the pick and roll because Tony is lethal."
While Parker struggled against the United States and their speedy guards, he draws longtime Argentina National Team player and newly-signed Knick Pablo Prigioni.
Be sure to read more on Manu's stay in London, including his lack of sleep over the excitement of being back in the Olympics.