The San Antonio Spurs look to shake off the loss to the lowly Los Angeles Clippers as they face the Minnesota Timberwolves tonight at the AT&T Center in San Antonio.
The last time these two teams met, it was a thrilling overtime victory for the Spurs who were down double-digits at one point.
To talk about the game tonight, I once again turn to a fellow blogger here at Bloguin, Dave from TWolves Blog — the best Timberwolves blog on the Internet.
To check out the Q&A I did for his blog for tonight's game, click HERE.
In this Q&A Dave gives his take on the game, what went wrong for the Wolves in the last game against the Spurs, takes credit for Tim Duncan's recent play, and much more.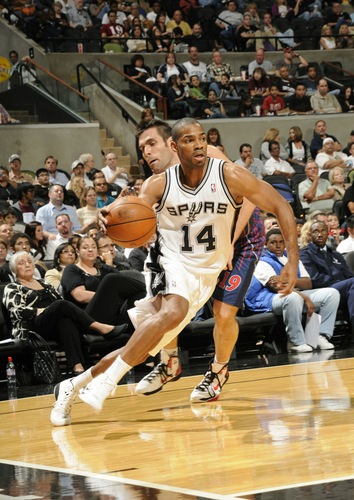 Jeff: The Timberwolves had the Spurs on the ropes in their last meeting. What went wrong for the Wolves against the Spurs?

Dave: Not to make sour grapes here, but the Wolves really should have won that last game. Wes Johnson's "foul" on Gary Neal shooting that three (WHY HIM???) at the end of game was an officiating atrocity. Other than that, we can't stop fast guards like Parker and BatManu. We just can't. And of course, they both carved us up. And you guys shot a ton of free throws. Other than those things, the Wolves basically did everything right…
What did the Wolves do right to put a scare in the Spurs during their last meeting?

… continuing on, the Wolves limited the Spurs shooting (39% from the field, and 10 of 32 from three point land!), kept Duncan in check (he looked like he was on the decline ;-), as well as out-rebounded and out-shot the Spurs. One honestly could not have asked for a better effort from the Wolves. I certainly did not in a billion years see that coming, against the then 12-1 Spurs.

Beasley struggled, but Love and Darko (huge stud!) had their way with the Spurs bigs. I think I predicted that beforehand, but I was still mostly shocked to see how well our guys played against yours. Wes Johnson also played a good game too. That rookie has potential. He's no "Franchise Guy", but he'll be a solid piece for years to come.

In your recap of the last meeting between these two teams, you wrote: "Duncan. Man, he's just not the same. He's still good of course, but not what he once was."

Please do not say you are one of those who count out Tim Duncan. Did you not see his triple
double against the Golden State Warriors and would you like to retract that statement?

I will take full credit for reverse cursing Duncan into remembering who he was. How about that? Ha!

Go look at his boxscores before the Wolves game, and then after. He really turned it on. Or maybe he just need a little while to get into the flow of the season? That could be entirely possible as well.
Enough about the last game, let's focus on the game tonight. Seems the Wolves can hang with the Spurs, what adjustments should the Wolves make in this game?

We just need to defend Parker and BatManu and prove that our guards all don't have a bunch of sand stuck in their you-know-what's. I fully expect Love and Darko to play well again, as I like the match-ups of the bigs.

Basically… stop Manu. He's a beast.
What is the key matchup in tonight's game and your prediction.

I guess I'd have to say Darko. Just because the team plays so much better when the offense is (effectively) flowing through him in the post. If he can put up a line similar to last game AND limit Duncan again, I like our chances to make a game out of this. Notice, I didn't say the Wolves would win. It's in San Antonio. We have won 1 road game in like the past 300 days or something. The Wolves will not win.

Our December schedule is brutal. We could go win-less this month.

Wolves 95 – Spurs 107.