Two former San Antonio Spurs, Bruce Bowen and Antonio Daniels, will be honored by their respective universities.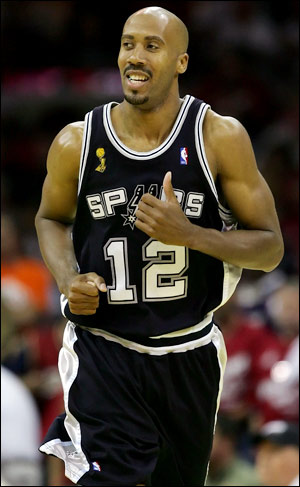 Bowen, a three-time champion with the Spurs, will be enshrined into Cal State Fullerton's Hall of Fame on October 1.
Former Titan basketball coach Donny Daniels will induct Bowen, who was a three-year starter for the Titans from 1989-93. Bowen went on to play in Europe and then the NBA where he won three NBA championships with the San Antonio Spurs.
Daniels, who won one championship in 1999 with the Spurs, is part of the first group that will be honored in Bowling Green State University's Cast of Honor.
Bowling Green selected 13 former students-athletes to honor and whose jerseys will be hung in the athletic venue they played in.
Antonio Daniels was named the MAC Freshman of the Year following the 1993-94 season. His contributions to the Falcons didn't stop after his freshman season though, as he was named MAC Player of the Year following the 1996-97 season. Daniels led the Falcons to the Mid-American Conference regular season championship in 1996-97 as well. Following his senior season, Daniels was drafted fourth overall by the Vancouver Grizzlies. He has bounced around the NBA, contributing to successful seasons with the Grizzlies, San Antonio Spurs, Portland Trail Blazers, Seattle Supersonics, Washington Wizards, New Orleans Hornets, and is currently with the Philadelphia 76ers.
Bowen and Daniels were both fan favorites during their playing days in San Antonio. They had the opportunity to play together during the Spurs 2001-02 season.