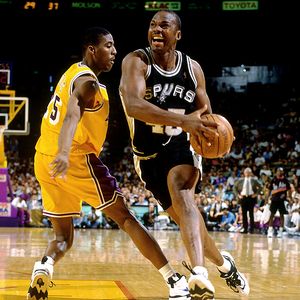 Former San Antonio Spurs shooting ace and new assistant coach under Mike Brown of the Los Angeles Lakers, Chuck Person, recently spoke in an interview with Mike Trudell of Lakers.com.
In the interview, Person tells Trudell that playing in San Antonio made him more of a team player, and his perimeter shooting and team defense were what made him a quality player in the Spurs' system.
Indiana was where I had my best individual success, but my best team success was with San Antonio. When you talk about players being pros, you have to be able to fit in with the system, and in San Antonio, I knew I wasn't going to be the focal point offensively, so I had to be a piece of the puzzle. There were post up guys like David Robinson, so I had to become an outside threat only, and I worked hard on the one thing I really had to do, which was shoot threes.
Shooting threes was what I worked on every day, because I knew that's what was going to help our team. I made two hundred three-pointers before practice every day, and two or three hundred more after practice. On the other hand, I wasn't a great individual defender by any stretch, but I was a good team defender, and I focused on those techniques. We had a system that was predicated around being able to defend for a dribble and a half, keeping your man from blowing by you on one dribble, and being able to help the helper under Gregg Popovich's design. All in all, it was a joy to be around guys like Robinson, Avery Johnson, Vinny Del Negro, Doc Rivers, Monty Williams and Dell Demps, all of whom are still very much involved in the game.
When or if the NBA lockout eventually ends, Person will be one of the assistant coaches Brown may have to rely on heavily because Person knows all of the Lakers' players on a personal level after being their assistant coach under Phil Jackson for a few seasons. One such star might be the Lakers main star in Kobe Bryant as he finally mentioned Browns name in a recent interview two months after the hire.
(photo: espn.com)