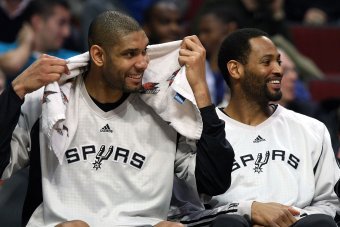 Kobe Bryant, in case you weren't aware, is a nine-time All-Defensive first teamer and three time second teamer. However, for the last several years that's been on reputation alone.
One of the reasons for that is that Kobe likes to play center field on defense and often gets caught ball watching instead of staying with his man. Despite his 2011 NBA Defensive first team nod in 2011 and second team nod in 2012, the secret is getting out that Bryant isn't anything more than an average defender anymore.
Among those starting to call Bryant out on his defense is his former teammate and former San Antonio Spurs forward Robert Horry, who spoke about Kobe's off-ball defense at a recent Lakers event (H/T to the Los Angeles Times).
"[When] Kobe is on the weak side, he needs to start paying attention to where the ball is and not be flying around, thinking he's some stealth bomber where he can get steals nonstop," said Horry.
Horry's right, everyone's been able to see it the last few years, but whoever is picking the All Defense teams has just been going off reputation for the last couple of years. Before that, Kobe was doing so much on offense the Lakers chose to put Metta World Peace, and before that Trevor Ariza, on the opponent's best perimeter player. Now, Mike D'Antoni is asking Kobe to cover the opponent's best perimeter player, mostly because Steve Nash and World Peace can't, and it's worked for two games because Kobe has been guarding much smaller players.
However, tonight the Lakers play the Miami Heat. That means Kobe is going to have to guard LeBron James or Dwyane Wade. Against the Thunder it means guarding Russell Westbrook or Kevin Durant. Against the Spurs it's Manu Ginobili or Tony Parker. So not six foot tall point guards. He's going to have to guard guys who are either bigger than him or aren't much smaller and excel at getting by larger players. They're also guys that play well cutting to the basket off the ball. In short, Horry is right and this new plan of D'Antoni's won't work against the NBA's elite teams.
Photo: Bleacher Report