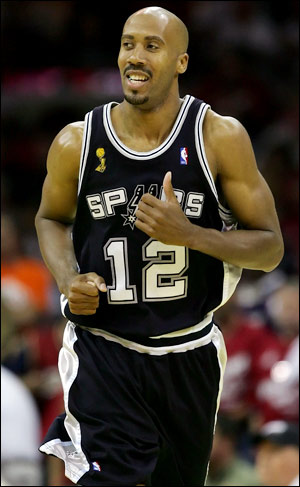 Former San Antonio Spurs forward Bruce Bowen bounced around from team to team early on in his career before finding a home in San Antonio.
While Bowen wasn't always a defensive talent throughout his NBA career, it's what got him on the court and earned him a spot on three Spurs championship teams, according to a Q&A he had recently with Hoopsfix.
I didn't come in thinking defense but defense was a way to me to get in the court. So as I learnt that I used the best of my ability.
Bowen answered several reader questions for the British basketball website earlier this month while he was in Europe as an NBA Ambassador.
Bowen played in France before he made it to the NBA, and one reader asked how basketball in Europe changed since Bowen played internationally. Bowen said European athletes, like former teammates Tony Parker and Manu Ginobili, have a greater impact on the game due to Europe's exposure to the NBA.
Bowen also listed Kobe Bryant as the player he enjoyed guarding the most, said Michael Jordan was the toughest player he ever had to defend, and likely much to the chagrin of Heat fans, Bowen said, excluding Jordan, Bill Russell is the greatest NBA player of all time.
Asked what he'd change about the NBA, the former five-time All-Defensive first team member cited player age over any defensive rule changes.
I would change the age. It should be required that the players go to college at least 2 years before entering NBA. That would help them to avoid some mistakes, learn responsibility. It is hard to arrive suddenly in the adult world when you still have a child mentality.
For more on Bowen, make sure to read the full Q&A over at Hoopsfix.