Tim Duncan has arguably been the most under-appreciated superstar in the NBA. Since the San Antonio Spurs drafted him in 1997, he's been the
Spurs' cornerstone and leader ever since then. He's also been called the "Greatest Power Forward of All Time" by coaches, fans, and former opponents. All you need to do is watch just one of Duncan's games to know what kind of player he is because he's always been the same player every game of his career (except that he has a reliable jumper than when he came into the league).
That being said, you know the surprise many Spurs fans got when they read what Boston Celtics coach Doc Rivers and Spurs coach Gregg Popovich said concerning Duncan and longtime rival Celtics' Kevin Garnett to Jim Fenton from EnterpriseNews.com before their teams played against each other for the first time this season.
"Just put a mirror and just tell them to look at it. They're both extremely professional. They obviously do it differently. Kevin is more outward in his emotions. Tim is inward, but they both have the exact same mentality. They both are extremely tough. They're both extremely competitive and it's just another example of you can be the same way and be different emotionally. It's amazing how much both of them care about winning. On the floor, they're both unselfish at times to a fault. It's amazing how similar they are yet how different they act." – Doc Rivers
"They could look in the mirror and realize they're both the same in so many respects as far as how they've run their lives in the NBA: how they've run their careers in the sense they're both competitive as hell, they both understand the game, they both love being on the court. Neither one is really that excited about the hoopla that is all around it, but they've also endured, taking care of their bodies. They're the heart and soul of their respective team and they can both feel very good about the stamp they've both made in the league." – Gregg Popovich
While Duncan and Garnett do share similarities, they are from different worlds in important categories for San Antonio fans.
Leadership
: Both are leaders of their respective teams and are a part of their team's veteran core. Their leadership skills set them a part like night and day. Duncan is the quiet leader who'll motivate opponents during timeouts, halftime, or after the game. He's a guy who likes to keep team business among the team, which is why the Spurs are considered "boring" by some because they don't air out their team's laundry to the media. Garnett, on the other hand, is a polar opposite. He's a louder leader to his teammates on the court, even if it means embarrassment for them. If you need an example, there was a game where he called out his teammate Glenn "Big Baby "Davis in front of the team and in front of thousands during a game while on the bench which resulted in
Davis being in tears.
Duncan's personality and character wouldn't allow him to carry out "tough love" to his teammates since he expects to be treated the same as the rest of his team.
Character
: A person's actions say a lot about their character. You don't need to ask anyone about a person if you can make up your mind just by their actions. This is where these two personalities are the most apart. Tim Duncan is a guy who won't talk smack to another player or taunt them, he just does what he's supposed to do on the court and feeds off of what other players give him as fuel. His version of "talking smack" is making a tough shot over you or having a rare strong dunk to send a message. After he's done with his business, he goes on his way to the other side of the court quiet as quiet can be. KG is totally different and that's probably the mildest that it can be described. He's widely disliked, mostly by smaller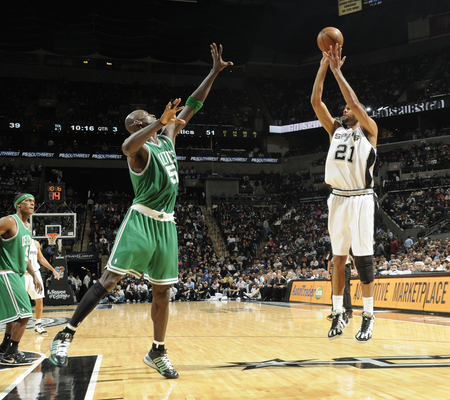 guards, mainly because they're the
prime targets
for his trash talks. While that's usually "basketball norm", Garnett has been accused of worse things on the court (more in the category of "despicable"). One of a list of accusations Garnett has against him is calling Charlie Villanueva a "
cancer patient
", which rubbed many the wrong way to say the least because of many people and loved ones lost to the disease. Garnett quickly tried to refute that claim by saying Villanueva, who's not known as a troublemaker in the league, is a "team cancer". There's those who might say that Garnett has been caught up in the moment during his Boston Celtics tenure, that he never acted this way while he was a "loveable loser" with the Timberwolves when he couldn't get out of the first round of the playoffs. This takes us to two (one is a widely speculated rumor) of the reasons why these two men are so different and these 2 examples are between the two in altercations. On May 15, 1999, Duncan's Spurs were playing Garnett's Timberwolves in game 4 of the first round of the NBA playoffs. The game got physical between that two teams and saw a confrontation between then Spurs player David Robinson and Wolves player Joe Smith. While Duncan was trying to get between the two in the fight, Garnett took a
cheap shot
to Duncan and slapped him behind the head, something that Duncan would never dream of doing with his quiet demeanor. What could've started this rivalry between the two is a widely known rumor (and should be taken as such) that on May 9, 1999 (first game of the first round between the two) Garnett
screamed out
to Duncan "Happy Mother's Day m**********r" to Duncan while TD was going to take free throws (Duncan's mother passed away before his 14th birthday). While most of them are rumors, it's sad that it doesn't surprise a lot of fans who know the game and Kevin Garnett. Tim Duncan certainly hasn't been accused of actions like this nor comes close to thinking he'd think about acting the same way Garnett does.
Duties of a Superstar Big Man
: While both men have been known as superstars and the main players of their respective teams for years (except for the last few years where they've given up their duties for the younger up and coming players), their play during clutch situations have set them apart on the court. Both men share a mid range jumper in their arsenals, but their games and mindset on the court differ. Duncan has always been the type of player who wants the ball on the post, where he can get the shot closest to the rim and to draw fouls on opponents. This is what a proven big man who's a superstar does: slow the game down and gets better shots for his team. Big men are revered for this attribute because once a guy is being dominant on the inside, he opens up shots for his teammates and sinks in help defenders. Duncan has wanted to be this type of player from the start and today. Garnett, on the other hand, has been a jump shooter for the majority of his career up until he's become the
Boston Celtics' starting center. He also hasn't been the player to guard the opposing team's better center when the time called upon it when he had players like Kendrick Perkins taking that responsibility while Duncan's guarded opposing team's big men if they were making a huge impact on the game (ex. Shaquille O'Neal during his Lakers and Suns tenure in the playoffs). Duncan has always tried to shoulder the load in every Finals game he's been in while Garnett seemed to disappear up until the final minutes of Game 7 in 2008 against the Los Angeles Lakers where Paul Pierce already took most of the team's load for the game. If you had to pick which big man you'd want to carry your team, it'd be hard not to pick Duncan over Garnett, especially when Duncan's game and his acceptance of not only what he could do but should do for the good of his team sets him aside from KG.
When you compare all the qualities both men bring to the equation, it's hard not to side with Duncan in every category. If they were the same, it wouldn't be so easy to separate the too in just about every category. I'm not writing that I know more than Coach Pop and Rivers either. Everyone knows that coaches defend their players and they think their players are better than anyone else's. Rivers has a respect for Tim Duncan ever since he tried to
lure him away from San Antonio
in the summer of 2000 to the Orlando Magic as a free agent. Coach Pop has nothing but praise for his opponent's too and tends to put more emphasis on his team (positive or negative) instead of insulting any opposing player in the league. The reality is both players are great and are future Hall of Famers. They are still playing at an elite level at the end of their careers and have garnered respect for their on court abilities that have made them successful. They aren't, however, mirror images of each other. If you need one season or one playoff series to set them apart, all a Spurs fan needs to do is remember Duncan's dominant performance in 2003 where as the lone superstar (Parker and Ginobili weren't in their prime yet while David Robinson was getting ready to put an end to his career) carried the team on his shoulders to a championship. That's something Kevin Garnett hasn't done for a year, let alone a playoff series and that's what sets Duncan apart from him.