Today's Project Spurs' fan email comes from Tony Villanueva. He asks:
1. Sign Shaq for ticket sales and to as a veteran to teach your younger center players.
2. Extend & restructure your veteran players contracts, for example, Manu, could become one of your player/coach in his last 1 or 2 yrs of his contract.  (Jerry Jones-Dallas Cowboys was great in doing this).
3.Richard Jefferson, sign and trade or Roger Mason could become a much better player if given additional time, but must learn to play defense.
Hi Tony,
Since you opted to start with one of my "favorite" NBA topics, let's just get down to it.
In case you did not hear, Shaquille O'Neal recently signed with the Boston Celtics. So there goes the idea of him signing with the San Antonio Spurs.
You should go see how Celtics fans feel about Shaq in Boston at RedsArmy.com.
Personally, I'm not a Shaq fan. I am probably not the only one in San Antonio who feels this way, but I've not really liked the guy since his turn in the 1996 movie "Kazaam." I just think the Spurs could do better and find another big man who is interested in actually working as a team, not just as a player. Say former Spur Fabricio Oberto who is a free-agent.
As for extending and restructuring contracts, I am all for that idea. As a huge Dallas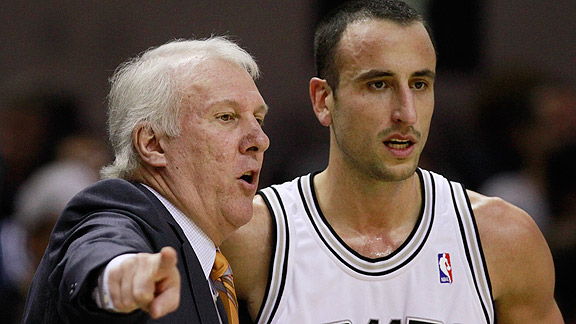 Cowboys fan, I know what you're talking about and I like it. I think Manu Ginobili would be an excellent player-turned-coach because he has the right attitude, definitely has the skills and genuinely seems to want to help the whole team achieve the main goal. Tim Duncan would also make an excellent coach with one stipulation – that he not pass on his poor mentality in bringing himself down when his game is suffering. That is another place Ginobili could stand to start working with Timmy – fixing his mentality.
Anyone who listened to the Spurscast earlier this week knows how I feel about Richard Jefferson – I'm not his biggest fan, but I am all for giving him another shot as R.C. Buford and the front office crew see fit. I know he can play a good game, but I really felt like he didn't give it everything he had this past season. Roger Mason is on his way to New York to join the Knicks, which makes me a little sad.
I really liked him at the very beginning of his time with the Spurs and genuinely hoped he would become a big play-maker for them. He's had some good moments, but maybe it's time for a change. I could see trying for a single season to improve his defensive skills, but otherwise – good luck in New York, Money Mase.
Thanks for the fan email Tony!
Emily
If you would like to submit your questions to Project Spurs, send us an email at: mailbag@projectspurs.com