Last season, it took the Spurs until December 2nd to win three games in a row. This season? October 24. After tonight, the San Antonio Spurs will either be 3-2 or 4-1. Either way, it's impressive. If they're 4-1, it means they are leading in the mini-series in Minnesota against a team that mortgaged half of the Twin Cities for Rudy Gobert (and Bryn Forbes, one might argue) in the off-season.
If they lose game two in Minnesota, they're 3-2 and split the series on the road, which is fine. You go into any playoff series hoping you can just take one road game, after all.
Here at Fiesta Shorts, we tried to keep our excitement to a minimum after the back-to-back wins in Indianapolis and Philadelphia. But watching the first game against the Timberwolves, we couldn't help ourselves. There's some stuff to get excited about, my friends.
This Spurs Season, We Introduce the Fiesta Meter
To help talk about the early season, we're launching the official Fiesta Shorts Fiesta Meter, which is a 1-5 rating scale. Five pairs of shorts are good, and one pair is bad.
We're not going to rate everyone today, but there are some players I really want to highlight, leading off with San Antonio's starting point guard, Tre Jones.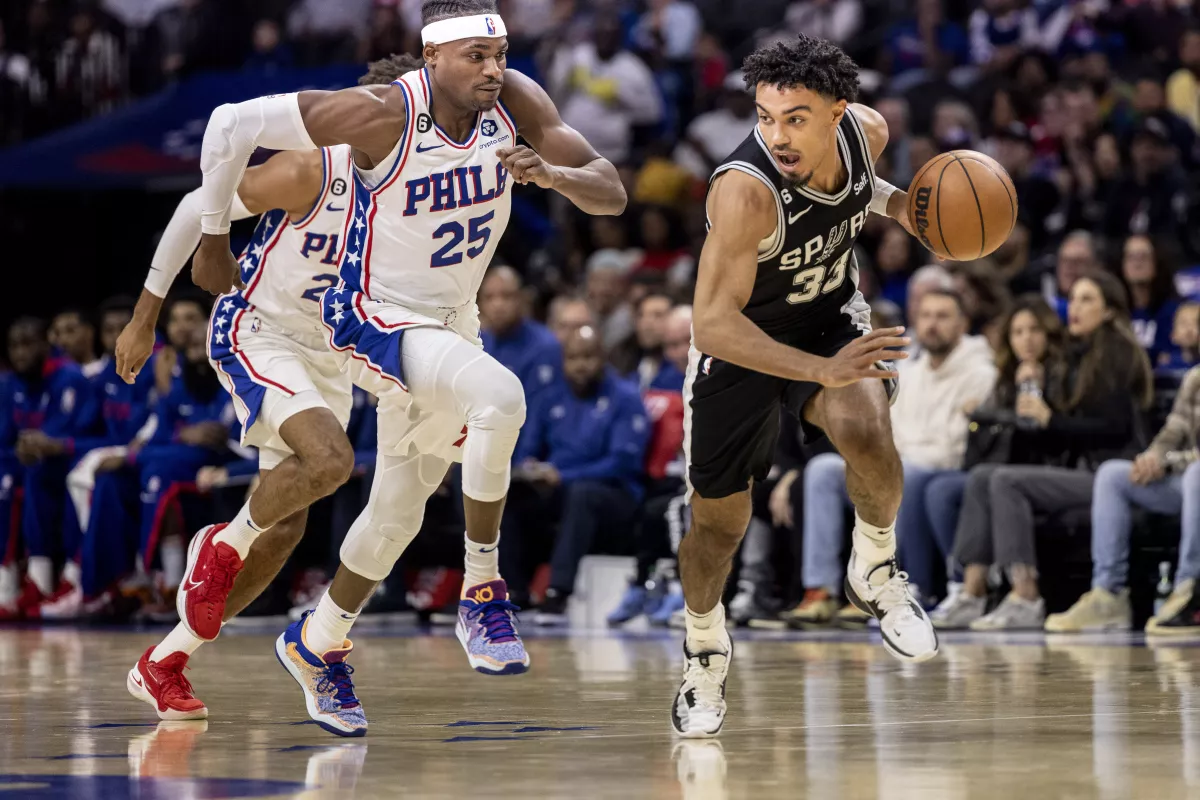 Tre Jones, 3.5 shorts
Behind Dejounte Murray on the depth chart the last two seasons, Jones didn't get many opportunities to show what he could do. This season, Jones hasn't wasted any time taking advantage of the opportunity.
Jones isn't blowing anyone away with his stats, but he's running the 13th-best offense in the NBA through four games. He actually flirted with a triple-double (8pts, 7 boards, 8 assists) and only one turnover in the first Minnesota game.
I don't have a way of saying this more professionally, but he just looked the part of a starting point guard in his last two games. And those games came with D'Angelo Russell and James Harden starting for the opposition.
Not bad for the third-year player from Duke. That's good enough for almost four fiesta shorts from me!
One burning question: How far can a Jones-led team go?
Devin Vassell, 4.5 shorts
He hoopin' alright.
After last season's trade deadline, we got a glimpse of what Vassell could do. He was entrenched in the starting lineup on February 11 and started 24 games down the stretch. In those games, the Spurs were 12-12. Vassell made 40% of his shots, including 38.5% from three while hitting 90% of his free throws (averaging less than two attempts per game). However, he didn't add much anywhere else in the box score.
This season, besides an ice-cold game one, Vassell's aim has been true. Exclude the clunker against Charlotte (which is kind of cheating, I know) and Vassell is 13-25 from deep. In the first game against Minnesota, he also flirted with a triple-double, scoring 23 points to go along with 9 rebounds and 7 assists.
As with Jones, Vassell has looked the part of a top-scoring option in the early part of the season and drawn at least one comparison to Grant Hill and another to Khris Middleton, which leads me to this…
One burning question: Vassell was touted as "the top wing defender in this [draft] class" when scouted ahead of the NBA draft. Will he make the leap to a top-tier defender in the NBA?
Jakob Poeltl, 4 shorts
A part of me expected San Antonio to be 0-4 and the spectre of whether or not Poeltl would be traded hovering above the team for, like, ever. And while John Hollinger obliged me after just three games, let's agree to put that kind of talk to rest until we actually know if the Spurs are good or not.
For his part, Poeltl looked like the best, most complete, big man on the court against Minnesota in game one. (And thankfully, we didn't have to watch him shoot 21 free throws.) His on/off stats indicate he's been a positive force in almost every aspect of the game. I especially like that opponents' defensive rebound rate is down 12.3% when Poeltl is on the court.
One burning question: Can he repeat his performance as the best big man in game two at the Wolves?
Jeremy Sochan, 2.5 shorts
The rookie got things going in Minnesota on Monday. Sochan threw down some thunderous lobs, including one from Keldon Johnson that Bill Land and I thought was destined for the bleachers. Sochan displayed his playmaking ability on offense and held his own on defense against some high-profile big men.
One burning question: Was the Minnesota game a coming-out party or just a positive early-season blip?
What do you think of the Spurs' start of the season? Thanks for reading, please be kind to each other out there.