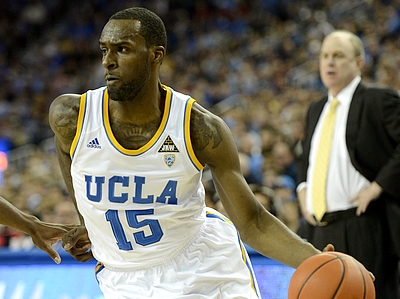 The NBA Draft is upon us. There's already been a lot of rumors about trades, pick promises, etc. The San Antonio Spurs have been linked to one prospect, Erick Green, and a top five pick from last year, Thomas Robinson. Since it's the Spurs, you'll hear them linked to a fraction of players and trades as other teams. The Cleveland Cavaliers have been linked to half the league since Monday. It's important not to get too worked up over any of these rumors (I'm telling myself this as much as I'm telling you this).
The Spurs have excelled at finding rotation guys at the end of the first round and even in the second round. Aside from the Kawhi Leonard trade, the Spurs have also shown they're averse to the risk that trading up in the draft brings. You're giving up an asset to get an unknown. However, the George Hill-Kawhi Leonard trade showed that the Spurs aren't completely opposed to that risk. While this draft doesn't have an obvious superstar it has plenty of depth and has me wondering whether the Spurs are primed to move up to the middle of the first round again.
If the Spurs are going to move up it's going to take more than 28th pick in the draft. That could mean the rights to Davis Bertans or Adam Hanga, or it could mean Nando De Colo or Matt Bonner's partially guaranteed contract. But if we're talking about moving in to the teens, we're probably talking about Danny Green. Green's stock probably won't get much higher than it is now. He shot the ball at an insane rate for most of the NBA Finals and has two years left on a very good contract. He is the definition of an attractive trade piece. How attractive is a good question, though it should garner a pick in the late lottery or just outside it. The Jazz at 14, Bucks at 15 and Hawks at 17 and 18 feel like pretty good partners.
The difference between this year and 2011 is the Spurs don't have a glaring immediate need. R.C. Buford described the Spurs' immediate needs as "subtle" though in true Spurs fashion didn't specify those needs. In 2011, it was obvious the Spurs needed another small forward. I'd say another scorer, back up small forward and some athleticism up front are probably the biggest needs. The bigs and the scoring can be found in the middle of the draft, the back up swingmen are literally all over the place. Three names I very much like are Shabazz Muhammad from UCLA, San Diego State's Jamaal Franklin (a former teammate of Leonard) and Gorgui Dieng from Louisville.
The other difference between 2011 and now is George Hill was coming up on a contract extension and Danny Green is not. Again, that also is what makes Green such an attractive piece. It also makes him hard to give up. And the Spurs might be able to move up without giving up Green, so let's not make this about to trade Danny Green or not to trade Danny Green. It's about retooling around the edges. Helping reload for next year while building for the future at the same time. That's what Kawhi Leonard represents. There's no perfect prospect this season and even if there was he'd be out of the Spurs reach. But the franchise, or program as they call it, has proven time and again they're really good at developing guys who have a willingness to learn and some natural ability.
The 2013 NBA Draft could be a really quiet night for the Spurs or it could provide some fireworks. We won't know what's happening until it happens (or until Adrian Wojnarowski tweets what's going to happen 30 seconds before it does). Just remember the guys making the decisions are way better at this than we are, so everything will be OK.
Photo: DraftExpress