During the offseason I've given much attention on the San Antonio Spurs' offseason moves. From grading the moves to having a few suggestions on which players the team should consider adding to the roster as the new season approaches.
In July, my friend and colleague, Michael De Leon, wrote a great article about the Spurs' projected starting lineup. He mentioned the Spurs starting five for next season could be Tim Duncan, Tiago Splitter, Richard Jefferson, Tony Parker and George Hill. Assuming he was right, another interesting topic comes to mind — the Spurs' bench.
Let's break it down.
Antonio McDyess and DeJuan Blair
Last season McDyess was the team's starting center and Blair was the backup power forward, though he did start 21 regular season games at center last year.
This upcoming season, with the addition of Splitter, the Spurs' frontline got deeper. If Splitter becomes the team's starting center, McDyess and Blair will split time as the team's backup center with Blair probably playing some time at power forward as well.
Assessment:
If last year's first round playoffs performance against the Dallas Mavericks was any indication, then McDyess still has a lot of game left in him. With fewer minutes, he could be more effective for the Spurs in the playoffs. Rest is good for his veteran legs but he certainly knows how to play. He will provide an instant boost from the Spurs' bench especially on the defensive end of the floor.
As for Blair, his per minute numbers, especially rebounding, last year were amazing. Giving him more minutes at the four and five spots will help him develop his game more, gain more experience and improve. He will continue to provide the hustle and grit that the team needed.
Matt Bonner
Last season Bonner was a backup at the power forward and center position but when he got hurt, the Spurs' big man rotation became thinner. This upcoming season with McDyess sliding as the team's backup center, expect Bonner and Blair to share more minutes at the power forward position.
Assessment:
Did you know last year Bonner started at center eight times? This upcoming season that isn't going to happen. Less pressure on Bonner could mean more production and hopefully consistent shooting from him.
James Anderson and Alonzo Gee
Last season Keith Bogans was the primary backup at the small forward spot, sharing some time with Michael Finley (before he went to the Boston Celtics) and Malik Hairston.
This upcoming season, assuming Gee makes the team, he could be Jefferson's primary backup because he is a natural player at the three spot. Rookie Anderson could play some small forward because he has good size and is a good shooter. Something the Spurs need from a wingman. Though recently the Spurs have been working out Jawad Williams and Darius Miles for the small forward position.

Assessment:
With Gee and Anderson, the Spurs' rotation at the small forward spot became younger and more athletic. Anderson was a proven scorer in college while Gee averaged 7.4 points on 77.8% three-point shooting in 11 games for the Washington Wizards last season. If that trend continues, the Spurs' small forward rotation could be deeper than most people think.
Manu Ginobili and Gary Neal
If there is any player who is great at coming from the bench it's Ginobili. He shared some time as the team's backup shooting guard with Roger Mason Jr. last year. This upcoming season Neal will provide more depth at the two spot which already includes Ginobili and George Hill.
Assessment:
Highly doubtful, but if Hill becomes a full time starter, Ginobili will continue to provide the needed offensive spark from the bench. Late in the season last year, Ginobili proved he is still one of the game's best finishers. Neal will get some time as a backup off-guard mainly because of his shooting accuracy. Also do not be surprised to see Anderson split time between shooting guard and small forward which will just bolster the team's offensive attack.
Garrett Temple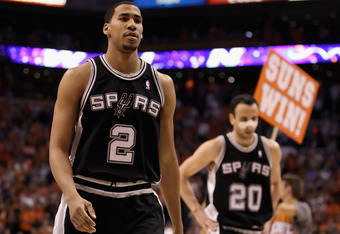 Temple was a late season addition when Hill went down with an injury and made an immediate impact.
With Temple, the team is deep at the backup point guard. He will get some help from Ginobili who is very capable at handling the basketball and also Neal who had some experience at manning the point during his time in Italy could be brought on to handle the ball should the need arises.
Assessment:
Temple has proven he can run the point. Temple averaged 5 points and 1.1 rebounds in 27 games for the Spurs last year. His size (6'6″) will give opposing point guards problems when orchestrating their plays.
The Spurs added athleticism and younger legs to their rotation. With Mason, Bogans, Ian Mahimni and Hairston gone, the Spurs did a tremendous job replacing those guys with Neal, Anderson and Splitter. On paper, the bench looks better than a year ago.
What are your thoughts? Did the Spurs' bench get better? Leave us a comment.