The San Antonio Spurs pull out a narrow win last night over the New Orleans Hornets thanks to a huge effort from Tim Duncan and the rest of the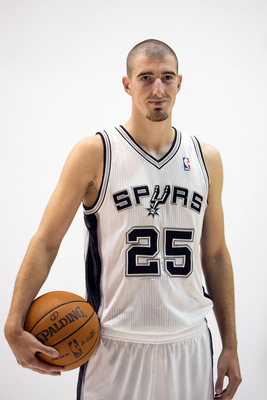 team from last season. However, rookie guard Nando De Colo did not play in the season opener which is to be expected for most of the season considering the guard depth on the roster.
And as a rookie, De Colo already knows his role heading into the season and spoke on the topic with French site Lavoix Des Sports.
"I do not specifically discussed it (his role) with the coach (Gregg Popovich). At times, I find myself playing either guard spot. Most of the time, in the preseason, I was at point. We will see how it goes over the season. This is a team that likes to pass the ball. Upon arriving, I told myself that I would return to playing a role. But I must take the shots when I'm open, do not hesitate, this is what I have been told by coaches. They are the ones who most often give me messages from the coach."
Of course during the preseason, Nando drew comparisons to Manu Ginobili from teammate Stephen Jackson, due in large part to his passing ability and fearless drives to the rim. Many fans felt the same but Nando says the comparison was nice but he is not Manu.
"The compliments. The comparison with Manu Ginobili (made by Stephen Jackson and Gregg Popovich) is flattering but it is in the past, we must continue to work. I have my game, he has his own. But it is true that there are many similarities because I made ​​a couple of spectacular passes. This is a new experience, it is not always easy, but frankly, I'm happy with what I did in the preseason. Everyone coach, assistants, players, are there to help you. Everyone talks to everyone, there are good guys, it's nice."
As Nando develops and wades through his rookie season comes the rookie treatment. And seeing how he is the only rookie on the team, he will get hit with the hazing full force by this veteran team. However, he says he hasn't experienced much but did sing happy birthday to Gary Neal.
"I did not yet get too much. I just sang happy birthday to Gary Neal. I have not had to carry the bags of others, but you never know, the season just started! Whether to bring donuts, it's tradition for rookies, and I will."