NEW YORK CITY — Stephen Curry finished his rookie season in the NBA with the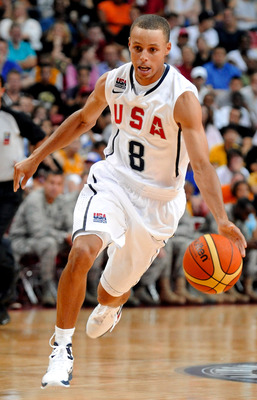 Golden State Warriors. He was the runner-up for the 2010 NBA Rookie of the Year and was a unanimous selection to the 2009-2010 T-Mobile NBA All-Rookie first team. Not to mention he averaged 17.5 points and 5.9 assists for the Warriors.
Not bad for a rookie entering the NBA but for as much as Curry has accomplished in his budding NBA career, when it comes to being on Team USA and playing on the international basketball stage, there is still much to learn.
As one of the younger players for Team USA, Curry knows he can learn a thing or two from playing with and against other veteran NBA guards such as Derrick Rose, Chauncey Billups, and Rajon Rondo day-in and day-out in preparation for the 2010 FIBA World Championship in Turkey.
"I'm a student of the game no matter if I play against the guys, watch them on TV, or just watching film. I always have my eyes open and try to learn something from those talented guys. Especially because they play my position," said Curry when I asked him about playing with Rose, Billups and Rondo. "I'm not just going out here blind or going through the motions. I'm definitely trying to pick up some stuff and add to my game. Sometimes my athleticism tries to take over but I see how they see the game and I can definitely learn some things."
Learning new things takes on a whole new meaning when it comes to grasping the international style of play. Curry, like most of Team USA, is adapting his style of game and is looking forward to play against any other international teams, "It's kind of tough right now because we haven't played against anybody but ourselves or the college guys (USA Select Team) who play our same kind of basketball," said Curry to Project Spurs, "But once we get to play China and France, get some exposure against other teams, other systems, then we can assess where we are and how we are developing with the international game. With the rule changes, you can get away with just playing ball but this weekend is going to be a good test for us."
One of the biggest differences between the NBA and FIBA is the trapezoid lane. It allows for big men to patrol the middle without the worry of a defensive three-second violation thus allowing for a more physical game. Especially if you are a guard trying to get to the rim.
Curry is fully aware of this but knows it allows him to showcase his three-point shooting touch especially with a closer three-point line, "It is!" said Curry when I asked him if he can sense how much more physical the international game is as compared to the NBA, "The lane is bigger which creates a lot more space on the floor. Guys can sit in the lanes because there is no defensive three-second rule. The big guys will always be down there if you are going to get in the middle. But that helps me because I can just shoot the three all day."
Learning and adapting and focusing on winning gold. There is no doubt Curry will be an asset in Team USA's pursuit of the gold medal.