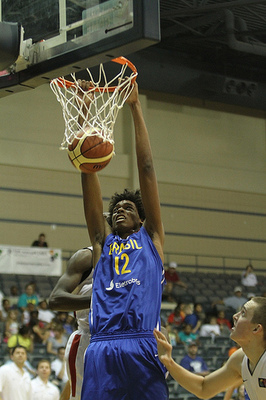 As I've written about before, the San Antonio Spurs have for the most part gone away from their draft and stash method that dominated their draft strategy of the middle of the last decade. They still have drafted guys like Davis Bertans, Adam Hanga and Ryan Richards, but none of those guys were first round picks and the Spurs drafted other guys in the first round that played stateside the following season.
While there could be some gems in the back half of this draft, this might, MIGHT, be the year the Spurs swing for the fences on an international prospect, much like they did with Tony Parker, Tiago Splitter and yes, Ian Mahimni. They're in good shape salary cap wise, so they don't absolutely need a cheap role player which a pick in the late 20's might provide. They also have plenty of young trade chips they could use to get an extra pick in the draft. With that in mind, here's a look at some of the international prospects that could catch the Spurs eye.
-Giannis Adetokunbo, Greece: Adetokunbo is the hot international name right now. He's really young for this draft class, having just turned 18 in December. He's a 6'9" point forward who has helped Filathlitikos tear through Greece's lower levels and his team is now in the second highest league. As Draft Express' Jonathan Givony noted in this great scouting report, he has excellent defensive and scoring potential and is a capable, but inconsistent shooter. Basically, potential is the word for Adetokunbo, but like Scottie Pippen potential, which is worth taking a gamble on. But he's still really wirey, raw and hasn't played against top European talent. Keep an eye on this guy whether the Spurs show interest in him or not. Here's a great video break down of the "Greek Freak."
http://www.youtube.com/v/km632hL-XCo?version=3&hl=en_US
-Lucas Nogueira, Brazil: If you're thinking this name sounds familiar, it's because this isn't the first time "Bebe" has flirted with the draft, though this time it looks like he's staying. Nogueira initially looked like he was going to come out in 2011 but backed out because he wasn't close to ready. Now, he's 20 and playing in the Spanish ACB league, which is the second best league in the world. Bebe is still only playing 12 minutes a game, averaging four points, three rebounds and a block a game, which is pretty good for 12 minutes of action, but the only 12 minutes a game part is a concern. That may give you pause, but in his final year in Europe, Serge Ibaka played just 15 minutes for the same Assignia Manressa team Noguiera plays for. He averaged seven points, 4.5 rebounds and a block a game. The point is never look at a 20 year old playing in Europe's numbers as an indicator of what kind of player he'll become.
-Dario Saric, Croatia: Saric is probably the best international prospect. He's 19 and getting regular minutes for Cibona in Croatia. At 6'10", he's like Danilo Gallinari, but not as good a shooter and a better ball handler. Saric is likely to go in the middle of the first round, so the Spurs would have to trade up, but playmakers who are almost seven feet tall don't come around too often, so maybe he's worth trading up for.
Those are some of the home run prospects. Remember, each of them likely needs at least another year, probably two of seasoning before coming over. Is that worth spending a first round pick on or in Saric's case, trading up for? Let us know if you want to see the return of the Spurs' draft and stash method.