Last week I was able to cover the San Antonio Spurs-New York Knicks matchup in Madison Square Garden. After the game, I headed to the Spurs' locker room to join the rest of the media as we awaited word to enter the Spurs' locker-room.
I had just finished interviewing Spurs' rookie Tiago Splitter and as I exited the locker room I ran into a familiar face walking the hallways — former Spur Roger Mason.
Although the game has passed, I thought I'd share with you the interview I did with Mason. Needless to say he misses the Spurs.
As I caught up with him, he was catching up with George Hill: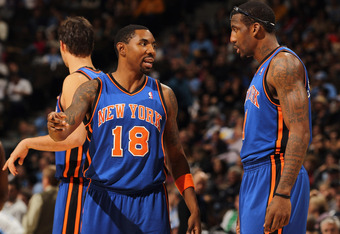 Jeff: Huge win against your former team. Did you ever think you'd see a Spurs team allow 128 points?
Roger: You know you never know. We got them on a good night. They're the best team in the league right now so it's a big win for us. They're putting points on the board this year too, they're playing really well and you know we got a good one tonight.
This was probably a good win for the Knicks as they head on the road. I take it this is a great launching-point for the Knicks as you head into this road-trip.
Yeah it is. It gives us more confidence to know we can play with anybody. Huge win for us so yeah definitely.

How has your role changed since joining the Knicks?
Well right now I'm not playing but I'm bringing veteran leadership. I haven't had an opportunity yet. You know it's a long season and I got a lot to offer the team and we will see what happens.
You miss the folks back in San Antonio?
(smiles) I do! I miss them everyday. I haven't been to a place like it.
What is it about the San Antonio Spurs? I hear that a lot from ex-players I speak to.
Professional. Family atmosphere. You know, you grow to love it.
What were the lessons you brought from San Antonio to New York?
You know character matters. Team work and toughness. You know you got to be tough to play for Pop and I'll have that with me for the rest of my career.
Your thoughts on the Knicks progress this season. Pushing for a playoff spot?
Yeah I see this team in the playoffs for sure.