Say what you will about San Antonio Spurs head coach Gregg Popovich, but when it comes to being their for past colleagues, and friends, he is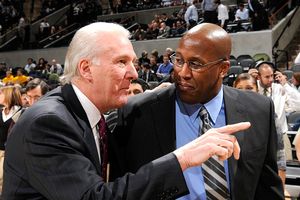 always there to help out.
Tonight the Spurs will face the Los Angeles Lakers in San Antonio which will also be a return home for Lakers head coach Mike Brown.
Brown used to be one of Pop's assistant coaches from 2000-2003, and even helped guide the Spurs to a title in his final season before heading off to Cleveland to coach the Cavaliers.
But for as much as Brown has won a title, took the Cavs to the 2007 NBA Finals, and is now coaching the high-profile Lakers, he still leans on his former boss when times get tough.
"Times get tough at certain times for me," Brown said. "He's probably the guy that I reach out to more than anybody else, and he knows me well enough to where if I haven't reached out to him, I'll see I got a phone call from him or a text from him. He's been great for me — and not just for me, but for my entire family."
And despite him coaching the Spurs and Brown the Lakers now, Popovich made clear he'd eagerly assist Brown as long as it wasn't directly related to Spurs vs. Lakers (at which time Popovich said he'll kick Brown's behind).
"He still helps me out," Brown said. "He's just a real human being. He knows people very well, and that's probably his strongest strength. He's a terrific, terrific people manager. He helps me in a lot of ways, not only on the floor but off the floor in my personal life."
Even though tonight each coach will try to get the win for their respective team, Pop knows these personal relationships mean much more than what happens on the court for four quarters. And for as much as Spurs and NBA fans may talk about how Tim Duncan is nearing the end of his NBA career and how fans need to appreciate TD before it's too late, the same can be said about Pop.
It's not often you hear about a coach doing what Pop continues to do for those he has worked with.