Former San Antonio Spurs player, Bruce Bowen, is participating in a basketball clinic in Rio de Janeiro and spoke with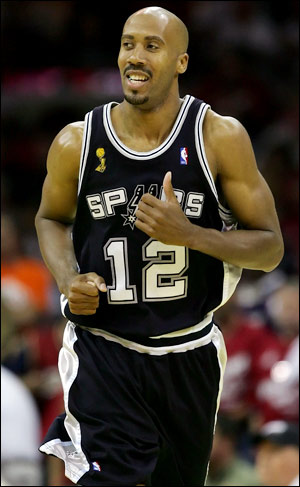 globoesporte.globo.com, to discuss his thoughts on Tiago Splitter, being considered a "dirty" player in the NBA, and more. Please excuse the rough translation provided by Google Translate.
GLOBOESPORTE.COM: You were one of the best defenders who have gone too bothered by the NBA and the opponents, who accused him of until you play dirty. Strong defense is basically what you're trying to teach these kids at the clinic?
 
BRUCE BOWEN: I try to teach them everything. You have to invest in anything that will put you on the court in decisive moments. I hit some great shots because I was there on the court.In some cases, the Gregg Popovich did not draw a move for me, but some do. If you're on the court, has the opportunity to be part of something special. Then you must find the niche that will leave him there. The defense was my finding. I could do other things because the defense allowed me.Today there are so many guys who defend well, then it may be an opportunity for these kids.
When Popovich has now returned from vacation, said in an interview on Tiago Splitter and said just that, the Brazilian has to find his role on the team. He quoted you saying that you just threw some points of the court, and at other points you'd better not walk …
(Laughs) True. It will be a smooth transition for Tiago. He is accustomed to playing at high level. In addition, you can reach without the pressure of having to do much. He can turn to Duncan and ask, "Hey, Tim, what I need to do here?" And Tim will help you. Tiago (has) luck of having a future Hall of Fame member to guide you.
In addition, San Antonio is a team accustomed to opening the doors to foreign players, see the case of Manu Ginobili, who turned actor there.  To you who know so well this franchise is the right home for Tiago?
 
I think, first of all, the success of Spurs Tiago will leave satisfied. They are aware of who the player and will make things easier for him. What matters is to make him comfortable in a position to contribute. Who knows what can he do? Everything will depend on how much he'll learn some things. For example, the game is not as physical as it is in the NBA FIBA. He'll need to dose intensity, even bringing that energy, but backing off a little.
To hear Bowen talk about how Duncan will be there for Splitter during his rookie year reminds me a lot of how David Robinson was there for Duncan during his rookie year.
For the complete interview click here.