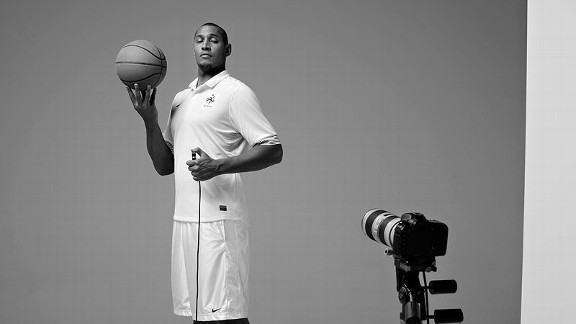 Sometimes we forget that our favorite athletes have lives, families, hobbies and other interests outside of basketball. ESPN did an amazing story showcasing a surprise talent of new San Antonio Spurs player Boris Diaw: photography.
Diaw was on a trip to Senegal in 2003 when he discovered he loves taking pictures. What started as an interest quickly blossomed when he was able to meet with a photographer from National Geographic, Steve Winter. Winter took Diaw with him to India to photograph tigers and was constantly impressed by his determination.
"It almost seems like his vision is based in the art world because he's very knowledgeable about photography composition," Winter said. "It's almost like you forget that he's an NBA player when you're with him. He would stuff all 6-8 of him in a little one of these Suzuki Maruti Jeeps that we take out."
Soon, Nike was interested in Diaw's work, so this past February, they asked him to do a shoot to showcase the French Football Federation away jersey. He grabbed some of his friends and put together an awesome collection. You can see the pictures for yourself, they're very impressive.
So now, in the offseason, Diaw looks for every opportunity to travel and find new places to take pictures. He's full of ideas for his next shoot.
"I want to shoot twisters, tornadoes," he said. "I want to shoot a volcano. I did, but not erupting… I would love to go to Canada and be able to shoot polar bears, or Alaska… And the Super Bowl."
(photo via espn, nike)