To know inward is to have the ability to look outward. To know is to acknowledge what you do and do not have or have the knowledge for. It's having the intellectual curiosity or need to ascertain the requisite resources to enlighten or inform. To know is to have the tried and true, the answer to the question. Knowing is after the fact.
Each year brings its own set of question marks. Some more than others and others easier to define, but question marks nonetheless. They're questions that can't be answered, only addressed: "Have we covered all of our bases, has this team the potential to be its own answer?" The key is to give yourself a genuine and legitimate opportunity, not guarantee an
outcome.
The San Antonio Spurs managed to capture four championships over a ten-year stretch while giving themselves a genuine and legitimate opportunity to win as many as seven or eight. They had the foundation of David Robinson, the greatness of Tim Duncan, arrivals of stars in Tony Parker and Manu Ginobili and the complimentary "glue" surrounding them all along the way.
All teams have pieces to create a framework, the Spurs' fortune came from the foundation for which theirs was built — the humility and selflessness of Robinson gave way for Duncan's greatness to thrive undeterred, and it provided the conditions for which a system could be built. The questions could now be defined and the pieces could now be put into their rightful place. The Spurs became tried and true.
From the moment the Spurs won their first championship they knew what they had to do. They had the cornerstone and foundation in place, all that was left was to make sure the roles of an aging supporting cast could be fulfilled and-or replaced. They were able to define need by position, they knew the type of player and skill set to target. The Spurs had developed their own championship central casting.
The Spurs managed to do this all on a budget — no team received more bang for their buck. They weren't annual taxpayers and they weren't acquiring high-priced talent via the trade or free-agent markets. Their most successful stars came via the draft or the scrap heap — Bruce Bowen couldn't shoot, Stephen Jackson couldn't grow up and Robert Horry couldn't play (anymore).
Four championships, essentially three different teams, and if the Spurs are to win a fifth, three teams becomes four. Only Duncan, Gregg Popovich and a defense-first mentality link 1999-2007, and all three will be present again if they're to hold up the Larry O'Brien once more.
It's a high-wire balancing act sustaining high-level success in a young man's game. It is true that the seasoned often win big, but it's also true they shortly fade — hunger subsides, athleticism erodes, effectiveness wanes.
The Spurs are a rare group, the exception to the rule. They've been as fortunate as they've been good. And if they had decided to just keep up racking up 50-win seasons and become content with being just another playoff team, no one could have blamed them. They'd given little ol' San Antonio a decade of dominance and four championships more than they'd ever had. If Peter Holt and ownership couldn't keep up with the "Joneses" and adjust to the NBA's newest business model, one in which to contend for a title a hefty luxury tax would likely be paid, most would have understood; but they wouldn't be asked to.
Two years, $29.4 million. That was the price Holt was willing to pay to keep the Spurs' championship window open. High-priced, over-priced talent via the trade market, a new financial climate led to a departure in form.
The Spurs admirably attempted to keep up with the "Joneses," but strayed from their business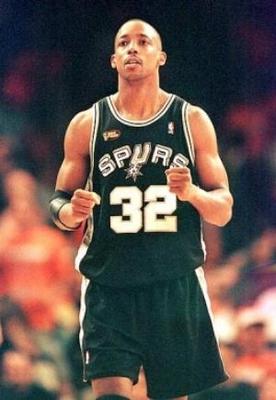 model, and casting couch. Richard Jefferson wasn't the next Sean Elliott, Mario Elie, Bowen or Jackson, he was something different. He thrived where the Spurs didn't or were unable to venture — Jefferson is the deep threat wide receiver to Parker's option quarterback. He wasn't a three-point marksman or a quality defender. He was a talent. He was a "Hail Mary" of sorts.
So the question becomes, have the Spurs miscast their ensemble or has the script simply changed?
A miscasting could conceivably be corrected. Instead of wholesale changes to the storyline and script, roles could be changed and-or another actor could be cast. If the Spurs were able to find a legitimate rotation player for their backup small-forward position, one that in some way could approximate the role of an Elie or Bowen, the pieces may just fall into place; if James Anderson could reprise the 2007-08 role of the Orlando Magic's Courtney Lee or the Spurs' Stephen Jackson of 2002-03, he may be deserving of an Academy Award.
Changing the script of the tried and true is always a dicey proposition. It's taking on the task of reinterpreting a classic movie or song and making it as good or better than the original. But sometimes there's simply no other option, and that just may be the case for these San Antonio Spurs.
It could be argued the Spurs are too small, too slow, too burdened, and too inexperienced when it comes to defending the shooting-guard and small-forward positions. George Hill's long arms only stretch so far; Jefferson's athleticism has trouble translating laterally (Bobby Simmons' is lost in translation); Ginobili can only do so much; and James Anderson, or even Garrett Temple, are likely just too green.
In the frontcourt, the Spurs aren't devoid of questions either. Tim Duncan is still an All-NBA defender, but he's no longer the presence that anchored the Spurs for a decade. His mobility has deteriorated to the point at which he's almost solely a center, each stop-and-go looks to be a chore. DeJuan Blair's a work in progress without much room for error. A ferocious
rebounder and as strong as they come, but his lack of height and experience often leaves the interior exposed — out on the perimeter he's unable to disrupt vision consistently and his rotations can be late to come. Antonio McDyess is still solid, but he's also hails from Alabama. Get him to the games that count, and like Horry, you seem to see a better player. Matt Bonner tries his best, often finding himself in the right position, yet sometimes it just doesn't matter — it seems his reputation breeds confidence in more than a few players.
But they may just have enough with a healthy Tiago Splitter. A legitimate 6-11 player with enough mobility to guard a power-forward or center, something that would allow the rim to be protected when Duncan's forced out onto the floor — the opposition has feasted in recent years by involving Duncan in the pick-and-roll knowing he was the only shot-blocker on the court. Splitter will never be confused for David Robinson or Tim Duncan as a shot-blocker or deterrent, but if by year's end Splitter and Duncan prove to be as good or better than the Duncan-Oberto tandem of 2007 … that just may be good enough.
Of course all of these questions come from, and are defined by, the tried and true. Questions one knows need to be answered.
Whether the Spurs' front office believes they've given their team a genuine and legitimate opportunity to capture their fifth title, is very likely contingent upon a move — or if the script's been given a rewrite.
In which case, the questions begin anew.