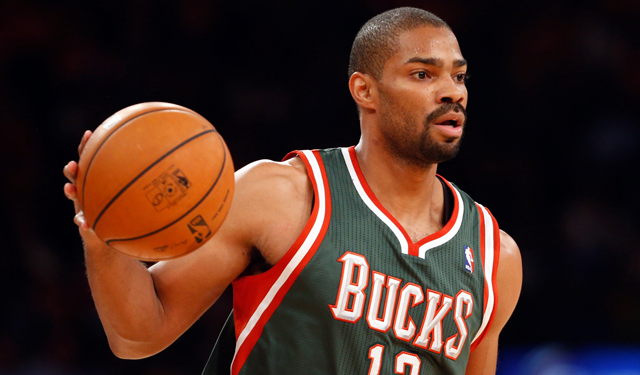 • Former Spur Neal could be headed to conference rival | Gery Woelfel
Former San Antonio Spurs guard Gary Neal has been on the trade block in Milwaukee since his locker room argument with teammate Larry Sanders. The Bucks may have found a potential suitor and Neal could be packing his bags in the next 24 hours. According to a tweet from Racine Journal Times columnist Gery Woelfel, the Oklahoma City Thunder have some interest in adding Neal.
Many foresee a Spurs-Thunder Western Conference Finals, and Neal could give the Thunder much more than another sharpshooting guard, which they already have with Reggie Jackson, Jeremy Lamb and Derek Fisher. Perhaps the Thunder could be interested in the corporate knowledge Neal acquired in his time in silver and black.
• Spurs announce changes to upcoming broadcast schedule | Spurs.com
The Spurs-Pistons game on Wednesday, Feb. 26 will now be broadcast on FOX Sports Southwest with tip off scheduled for 7:30 p.m. The Spurs-Lakers game on Friday, March 14 will now be broadcast on KENS-TV with tip off scheduled for 7:30 p.m.
• Spurs know how to compete | LA Times
A Spurs team without Tony Parker, Kawhi Leonard and Tiago Splitter managed to beat a relatively healthy Los Angeles Clippers team by ten points, but it doesn't come as too much of a surprise to Los Angeles Times writer Ben Bolch, who says the Spurs' cohesiveness and smart play is to credit for being able to pull off an unlikely win on the road.
It's why guys like Tony Parker can go down, and Cory Joseph can step up and it's as if nothing has changed at all.
The Spurs gave the Clippers another lesson in togetherness Tuesday night at Staples Center throughout a 113-103 victory that revealed a template for playing through less than ideal circumstances.
• Fantasy Basketball Impact with Parker out indefinitely | Rant Sports
Fantasy owners of Tony Parker who might've breathed a sigh of relief when Parker played in the All-Star game are likely now jumping on the waiver wire and their watch lists to find a replacement now that Spurs coach Gregg Popovich deemed him out indefinitely. According to Brad Berreman of Rant Sports, there will likely be slim pickings on the waiver wire at this time of the season. However with the recent success of Patty Mills, it might be wise to try to add him before he's gone.
• Spurs underperforming on secondary ticket market | SA Business Journal
Apparently, the Spurs' success in the first half of the NBA season has done little for their ticket sales on the secondary ticket market. According to a report by W. Scott Bailey in the San Antonio Business Journal, fifteen NBA teams are commanding higher median ticket prices. The Spurs' $59 median ticket price looks like pocket change compared to the Oklahoma City Thunder's $185 price tag. According to Bailey, the slew of injuries the Spurs have suffered as well as the variety of lineups due to the injuries could be to blame.
• Danny Green revisits Finals loss to Heat | ESPN First Take
Danny Green joined ESPN's First Take crew, where he was asked about Game 6 and the NBA Finals loss to the Heat. Green described Ray Allen getting the ball and hitting his corner three as a horror movie. Video is embedded below.
http://youtube.com/watch?v=IQRh7DoG4yM