Back in October, when the NBA season was in its infancy, I made 21 bold predictions, ranging from predictable to WHAT THE HELL IS WRONG WITH YOU #idiot. Which you can find out by clicking here.
Today, I am revisiting them at the Spurs' halfway point (the Spurs are 32-9 through 41 games.) Turns out this stuff is hard.
Who knew?
And, with that, let's begin.
1. Kawhi Leonard will average 2.5 steals per game.
Not quite. This was an unlikely preposition to begin with — even moreso now, considering Kawhi is averaging *just* 28.9 minutes per game. The San Antonio Spurs are curtailing his minutes in the regular season — perhaps rightly so — and it's going to be damn near impossible to average 2.5 steals this season. (He's averaging 1.7.)
But, he is stealing the ball on 2.9 percent of the opponents possessions, the fourth-highest mark in the league. He's the only forward in the top four — Chris Paul, Ricky Rubio and Michael Carter-Williams are the other three. On a percentage basis, Kawhi is pick pocketing his opponents at an elite basis. Eventually, in the not-so-far-away-Tim Duncan-less future, Kawhi will have the minutes to approach this threshold.
Only 41 players have averaged 2.5 steals (or more) per game since 1946. Kawhi will approach that number, but not this year.
Verdict: Incorrect.
2. Kawhi will smile.
YES!!!!!!!!!!!!!!!!!!!!!!!!!!!!!!!!!!!!!!!!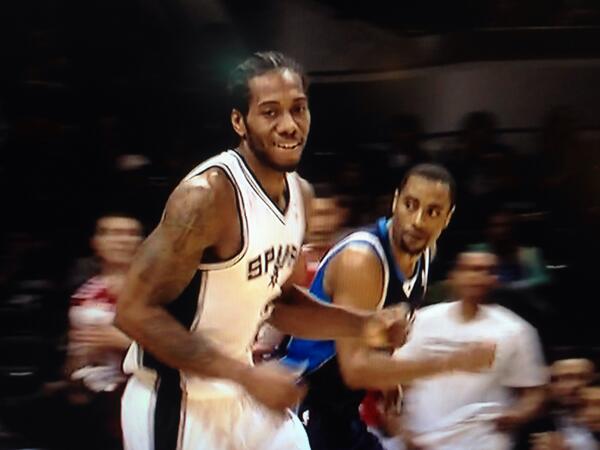 (h/t Pounding The Rock)
Verdict: YES!!!!!!!!!!!!!!!!!!!!!!!!!!!!!!!!!!!!!!!!
3. Manu Ginobili will play in at least 70 games next season.
Ginobili missed a few games with a tight hamstring, but the indomitable 36-year-old Argentinian is still on pace to play in 76 games this season. It would be the most since the 2010-11 season. He's one-tenth a point behind Duncan in Player Efficiency Rating, and the Spurs' offense is scoring 12.4 points (per 100 possessions) more when he is on the floor. #ManuFor6MOY
Verdict: As of now, barring a random injury, we'll chalk this one up as a yes.
4. Manu will also post career-highs in points, rebounds and assists per-36 minutes.
If you can't tell, I was predicting a resurgent season for Ginobili. He's been awesome this year, and though he won't fulfill this prediction because he's not scoring or rebounding enough, he's been FREAKING AWESOME. Ginobili's mere presence ensures the Spurs will be bananas on offense when he plays. That's all we really need.
Verdict: Incorrect. But still awesome.
5. Tiago Splitter will finish in the top five in pick-and-roll efficiency.
Tiago is scoring 0.98 points per possession in the pick-and-roll, 37th in the league. Meaning, he has to pass 36 guys to be first. His shoulder injury will sideline him three-to-five weeks, undercutting valuable time he could use to improve his pick-and-roll efficiency. This one is about dead.
Verdict: Dead.
6. The Spurs' starting lineup will lead the league in net rating.
A year after outscoring the opposition by 18.1 points (per 100 possessions), the Spurs' starting lineup — Parker/Green/Leonard/Duncan/Splitter, that is — has been an abject failure this season. The starters don't even crack the Spurs' top five lineups this year, much less the NBA's.
They've been awesome on defense, the equivalent of the top-ranked Indiana Pacers, but they haven't generated enough offense to be a net-positive. The last-ranked Milwaukee Bucks, for reference, scores four points per 100 possessions more than the Spurs starters. Duncan's meager field goal percentage on mid-range shots matters, as does Leonard and Green's erratic perimeter shooting Gregg Popovich has tinkered with the lineup, and we may see a new starting lineup, if this unit continues to play poorly. We will still see them play together — they are gang busters on defense, and Popovich values defense highly — but they are not the world beating unit I predicted them to be.
Verdict: Nooooooooo way.
7. Nando De Colo will play in fewer than 10 games this season.
Well, he's played in 14 games this season. And the Spurs are 14-0 when he plays and 18-9 when he doesn't. I'll shut up.
Verdict: Whatever.
8. De Colo will also average more turnovers per game than assists.
In those 14 games, De Colo has tallied 16 assists and 12 turnovers. He's turning the ball over on a fourth of his possessions, so this prediction is still well within reach. We'll see.
Verdict: Maybe?
9. Patty Mills will cede "lead towel waving duties" to De Colo.
Why hasn't this happened yet?
Verdict: Why hasn't this happened yet?
10. Tony Parker will lead point guards in Player Efficiency Rating.
Currently, he's 10th. He's had a fine season — 20.1 PER, 17.9 points, 6.3 assists, 51.1 FG% — but he hasn't been good enough to catch Chris Paul, who has somehow gotten better at basketball. This one is not happening but, frankly, the Spurs don't need him to be Chris Paul good to win a title. Tony Parker good is fine.
Verdict: Damn you, Chris Paul.
11. Tony will just play basketball.
You know, like not flashing an anti-Semitic gesture. Oh, wait, he did that? That happened?
Verdict: Nevermind.
12. Aron Baynes will play more minutes than Matt Bonner.
Baynes is averaging about three fewer minutes per game, and he's 154 minutes behind the (masked) Red Mamba in raw minutes. He could still pass Bonner, but he's been supplanted by Jeff Ayres in the rotation. Baynes has to contend with five guys playing his position to do that. Unlikely.
Verdict: N-O-P-E.
13. Marco Belinelli will teach Baynes Italian, and it will be kinda cool. And weird.]
Seriously, why hasn't this happened yet?
Verdict: Seriously.
14. Boris Diaw will SHOOT THE DAMN BALL … more than six times per game.
Boris Diaw is SHOOTING THE DAMN BALL 6.8 times per game this season. He's taking the highest volume of shots since the 2008-09 season. Scorin' Boris is back. /dances
Verdict: Scorin' Boris is the best version of Boris.
15. Danny Green will lead the league in 3-point percentage.
Not exactly. His teammate, Marco Belinelli, does lead the league in 3-point percentage, though. See, that's what I meant!
Green, meanwhile, has made 38.4 percent of his 3-pointers this season.
Green is a high-volume 3-point shooter and, naturally, his percentages will fluctuate a bit. To wit: He's made 3+ 3-pointers in eight games this season, but he also has made zero 3-pointers in 11 games. He still has plenty of value though. Green will be a handy defensive weapon in the playoffs, and he is an elite shooter on above the break 3-pointers. His presence stretches the defense to it's limits.
Verdict: Not happening.
16. DeJuan Blair will gobble up 20 rebounds in a 11-point Mavericks victory over the Spurs.
Blair scored 14 points and pulled 11 rebounds in the first #DeJuanBlairRevengeGame. So that was close. Then, he followed up his vengeful performance with … six points and six rebounds. The Mavericks lost both games.
Verdict: Sorry DeJuan.
17. The Spurs won't make a trade.
I still believe this one is likely, even though Ken Berger reported the Spurs were "unusually aggressive" in the trade market. They'll float around De Colo (someone take him, please), and they have some other assets, but they'll have to finagle a player that will help them, without hurting them either. I don't think it's possible. The Spurs, second in point differential (per 100 possessions), can still contend for a title, as currently constructed. If anything, we might see a "De Colo for cash and R.C. Buford's tears" type deal.
Verdict: /shrugs
18. The Spurs will lead the league in defensive efficiency.
San Antonio has allowed 99.9 points per 100 possessions this year — three points fewer than league-average. They are fourth in defensive efficiency, indicative of their efficacy on this end. The Spurs could leap to second, but they aren't going anywhere farther, unless Indiana turns into the Milwaukee Bucks on defense. Not only is Indiana the best defense, but they are the best defense in the last 37 years, via NBA.com's John Schuhmann's nifty chart: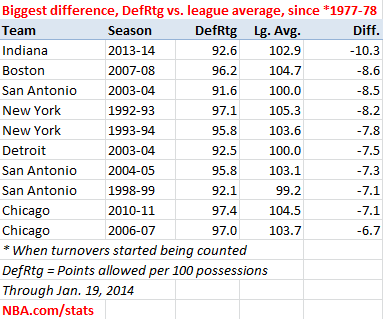 Verdict: You win this round, Indiana.
19. Gregg Popovich will average more than one sentence per sideline interview.
We've had plenty of classic Popovich sideline interview exchanges this season, and his hug with Jeff Van Gundy probably lowered his sentence average to around one.
Verdict: Still within reach.
20. Tracy McGrady will un-retire, re-sign with the Spurs, jump into a time continuum vortex and score 35 points a game during the postseason.
I STILL BELIEVE.
Verdict: /takes off pants
21. We will get over last year's NBA Finals.
Have you, um, forgot about that, um, thing — you know, that thing?
Verdict: I'm not very good at this basketball predictions thing. /takes off pants