The 2013-14 regular season is over. The Spurs won 62 games. They had two winning streaks of 10+ games or more — a 19-gamer and a 11-gamer, respectively. It was remarkable and, frankly, a lot of fun to watch the season materialize organically.
To commemorate the 2013-14 San Antonio Spurs, I doled out several Spurs awards, conventional and unconventional — from Most Valuable Player to most likely to win a karaoke contest to Gregg Popovich quotes of the year to victory cigar of the year. And much, much more.
This will be the first annual Spurs awards piece of (hopefully) many more to come. Enjoy.
—–
Most Valuable Player (top four voted by fans)
1. Tim Duncan
2. Kawhi Leonard
3. Tony Parker
4. Manu Ginobili
5. Tiago Splitter
The fans got this one right (in my opinion). Though Kawhi Leonard led the team in overall win shares — a statistic that does a decent enough job measuring overall impact — he played 235 minutes fewer than Tim Duncan, which amounts to about five full basketball games. Put simply, I rather have the extra five games of Duncan in this instance.
Tony Parker shouldered the offensive load this season, using 26.7 percent of the teams possessions when he was on the court. Even in limited minutes, he put up similar numbers to his 2011-12 MVP campaign.
Manu Ginobili played 22.8 minutes per game, four ticks lower than last year, but the difference is that he gave the Spurs eight extra games. Ginobili for 1,550 minutes rather than 1,393 minutes is a very significant difference, especially when the Spurs are scoring at a ludicrous efficiency when he's on the floor.
Tiago Splitter is the odd man out. He was a tall dude, he protected the rim, unfurled awkward hook shots and continued to be one of the underrated interior defenders in the NBA.
Offensive Player of the Year
1. Manu Ginobili
2. Tony Parker
3. Tim Duncan
I created this award to credit Ginobili and Parker for their excellence on this end of the floor. Ginobili gets the nod, just because the Spurs' offense improved by nearly seven points per 100 possessions, while the Spurs' offense actually was worse with Parker on the floor.
Defensive Player of the Year
1. Kawhi Leonard
2. Tim Duncan
3. Tiago Splitter
Kawhi is one of the rare athletes capable of transforming a defense, a rarity in a league where perimeter defenders are at an innate disadvantage. Leonard navigates screens well, attaches himself to his opponent and is a pain in the ass. He rarely puts himself in compromising position, and he can create a turnover and ignite a transition opportunity himself.
Duncan had a typically brilliant defensive season, too. Even at 37 years of age, he is able to protect the rim while rarely fouling. He averaged a microscopic 2.2 fouls per 36 minutes this season. Not that he ever fouls anyone ever, of course.
Gregg Popovich quote of the year
1. Popovich tells Craig Sager: "Craig, we miss you. You've been an important part of all of this for a long time. You're doing a great job. We want your fanny back on the court. I promise I'll be nice."
2. Popovich on Patty Mills: "He was a little fat ass. He had too much junk in the trunk."
3. Popovich's secret to the Spurs' success: "Get the No. 1 pick in the draft every 10 years and make sure it's a franchise player."
4. Popovich on Matt Bonner: "He's a weirdo. Matty's Matty. He's a lumberjack from New Hampshire. He's like the dweeb, egghead kind of guy. Highly intelligent, great sense of humor, well-read. Coach can't understand what he's saying half the time. He always has questions and you don't even know how to answer 'em. That's why we love him."
5. Popovich on losing in the NBA Finals: "Don't blame it on the basketball Gods. The Miami Heat beat us in the championship. And that's that. You move on."
Honorable mention:
Popovich's coaching philosphy: "Sometimes in timeouts I'll say, 'I've got nothing for you. What do you want me to do? We just turned it over six times. Everybody's holding the ball. What else do you want me to do here? Figure it out.' And I'll get up and walk away. Because it's true. There's nothing else I can do for them. I can give them some bulls-, and act like I'm a coach or something, but it's on them."
Yet another excellent quote season from Popovich. He definitely didn't disappoint.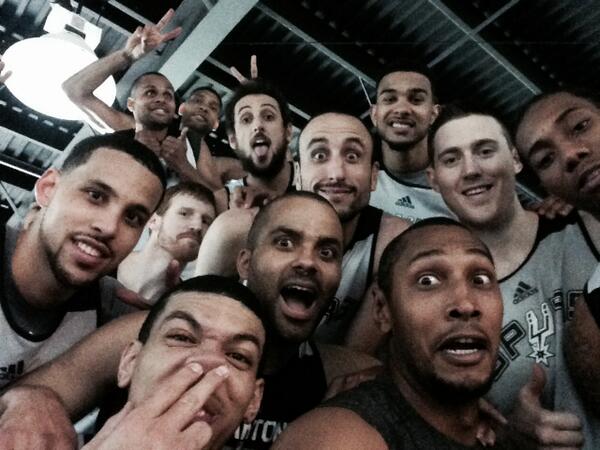 Photo of the year (top two voted by fans)
1. #SpursSelfie
2. #frogging
3. Manu vs. LeBron.
4. Gregg Popovich, Bill Clinton, Julian Castro and Henry Cisneros just chilling.
5. Marco Belinelli sticking his tongue out.
6. Pop is ecstatic after the Spurs' 18th straight victory.
7. Tim Duncan trolls Kendrick Perkins.
Honorable mention(s): Mt. Spursmore, Tiago and Patty in a kiddie pool, Chip Engelland in a gold suit, Freaky eyed Pop, Laid back Kawhi.
Photoshop of the year (top four voted by fans)
1. Aaron Preine: Yoda Pop
2. Caleb Saenz: #PopSelfie
2. David McGinnis: Marco Belinelli invincibility star
4. David McGinnis: #KAWHISENBERG
5. Aaron Preine: Iron Manu
6. Aaron Preine: Pop Fury
7. Lauren Sokol: #Popscars
Honorable mention(s):
David McGinnis: KAWHI SMASH, Captain Timerica, American Spurs hustle, Astronaut Boris Diaw, Kawhi Wolf of Wall Street, Popovich in "Nebraska", Daye-quil, Sad Nando, Spurs Mt. Rushmore.
Andrew McNeill: Spurs Different Strokes
Stephen Hale: Popovich Lincoln Memorial
Travis Hale: Spurs Rodeo Road Trip
This was the deepest and most competitive award by far. David McGinnis racked up 11 nominations and two finalists (Invincibility Star and #KAWHISENBERG); he's the Meryl Streep of Spurs photoshops. All in all, these was a very fun category and there are plenty of quality Spurs photshops floating on the Internet (which is an understatement).
GIF/vine of the year
1. Dancing Wolf of Wall Street Spurs.
2. Manu Ginobili's shoe EXPLODES.
3. Tim Duncan breaks Amir Johnson's ankles. 
4. Mama Mia!
5. Tony Parker free throw … fail.
Most Improved Player
1. Patty Mills
2. Marco Belinelli
3. Boris Diaw
This one was close for me. Belinelli's PER spiked 4.6 points (to a career-high 15.0) and he lead the team in true shooting percentage, eclipsing his previous career-high mark by 45 points. His shot chart will make you happy, too. He improved across the board, but his improvements don't amount to Mills' improvement.
Mills' PER jumped to 18.1, only behind Duncan, Ginobili, Leonard and Parker. His minutes doubled (and nearly tripled). He took more shots than Gary Neal and made them more often. He lost weight, allowing him to pester defenders without compromising the rest of the defense. He's worthy of Most Improved Player.
Single-game performance of the year
1. Tim Duncan vs. Atlanta: 23 points, 21 rebounds, 2 blocks, 10-15 FG AND the game-winner.
2. Patty Mills at Charlotte: 32 points, 7 rebounds, 4 assists, 4 3-pointers, 2 steals, 10-13 FG, 8-9 FT in 25 minutes.
3. Tim Duncan at Washington: 31 points, 11 rebounds, 5 assists, 3 blocks, 2 steals, 13-20 FG.
4. Manu Ginobili vs. Portland: 29 points, 7 rebounds, 5 assists, 4 3-pointers, 9-17 FG in 25 minutes.
5. Danny Green vs. Phoenix: 33 points, 7 3-pointers, 4 rebounds, 12-17 FG.
Honorable mention(s):
Tony Parker vs. Oklahoma City 37 points, 4 assists, 14-22 FG, 8-8 FT.
Kawhi Leonard vs. Memphis 26 points, 5 rebounds, 3 assists, 2 3-pointers, 12-13 FG.
Austin Daye vs. Philadelphia: 22 points, 6 rebounds, 6 3-pointers, 8-10 FG.
Tiago Splitter at Golden State: 17 points, 14 rebounds, 3 assists, 6-10 FG.
Game of the year
1. Spurs 104, Warriors 102: With the Big Three sitting, Tiago Splitter converted a game-winning tip-in that was *this* close to a goaltend.
2. Spurs 125, Wizards 118: Parker leaves with back spasms, Duncan goes for 31-11-5-3 in overtime win.
3. Spurs 112, Suns 104: Spurs eliminate 12-point halftime deficit, outscore Suns by 22 in the second half.
4. Spurs 102, Hawks 100: Duncan hits game-winner in Mike Budenholzer's return to the AT&T Center.
5. Spurs 110, Grizzlies 108: Spurs blow 15-point lead in fourth quarter, win in overtime.
Honorable mention(s)
Spurs 117, Timberwolves 110: Kevin Love scores 42 points, grabs 14 rebounds and makes 8 3-pointers in loss.
Spurs 111, Heat 87: Spurs crush Heat at home for the first time since the NBA Finals.
Spurs 133, Nuggets 102: Spurs obliterate Nuggets.
Mexico City smoke game (not technically a game, but fun nonetheless)
So many tough choices, especially since the Spurs crushed opponent by double-digits in 35 of their 62 wins.
Eye-popping stat of the year

1. Spurs' 70.6 winning percentage in the last 17 years is the best 17-year stretch in NBA history.
2. The Spurs are the first team in NBA history without a player averaging 30+ minutes per game..
3. Tim Duncan has more 50-win seasons (16) than 26 other NBA teams.
4. Tim Duncan, Tony Parker and Manu Ginobili have the second most wins of any trio in NBA history, trailing only Larry Bird, Kevin McHale and Robert Parish.
5. The Spurs are the third team in NBA history to be undefeated in one entire month. They've done it twice.
Honorable mention: The Spurs are 33-1 when Tiago Splitter scores at least points.
Victory cigar of the year
1. Nando De Colo
2. Austin Daye
3. Malcolm Thomas
Good ole Nando. The Spurs were 21-5 when Nando plays and the now defunct @DidNandoPlay account is more than enough to put him over the top. Austin Daye had a fantastic victory cigar season, though. The Spurs are 11-3 when he plays — and his 22-point performance cracked the honorable mentions in the single-game performances of the year — but it still isn't enough to unseat Nando from his throne. Until next year, young buck.
Most likely to be voted off the island

1. Nando De Colo
2. Damion James
3. Jeff Ayres
Nando was voted off the island, essentially, when he was traded at the deadline for Austin Daye. Damion James and Jeff Ayres, end-of-the-bench fodder, are next in line since the Spurs typically shuffle through these type of players each season.
Most likely to win a Karaoke contest
1. Definitely not Patty Mills.
2. Probably not Boris Diaw either.
3. Hmmmm.
4. I'll go with Tony Parker.
Seriously. I don't ever want to hear Patty sing anything ever again.
Kawhi smile of the year
1. Really happy Kawhi.
2. Halloween Kawhi.
3. Half-smiling Kawhi.
4. Tuxedo Kawhi.
5. Cheeky smile Kawhi.
There weren't many Kawhi smiles this season but, man, they were glorious.
Matt Bonner moment of the year

1. Masked Mamba.
2. Point Bonner.
3. Wrapping with rappers.
4. DJ Matt Bonner.
Honorable mention: Matt Bonner impersonates Andy Kauffman.
Don't ever change Matt Bonner.
—–
And that concludes the Project Spurs' first annual Spurs awards. It was a blast, and we'll be back next year with more awards like Tweet of the Year, Story of the Year, Blogger of the Year, Dunk of the Year (if there is one?) and Play of the Year.
I'd also like to thank everyone who voted, nominated and submitted work. You made this a fun and worthwhile experience.