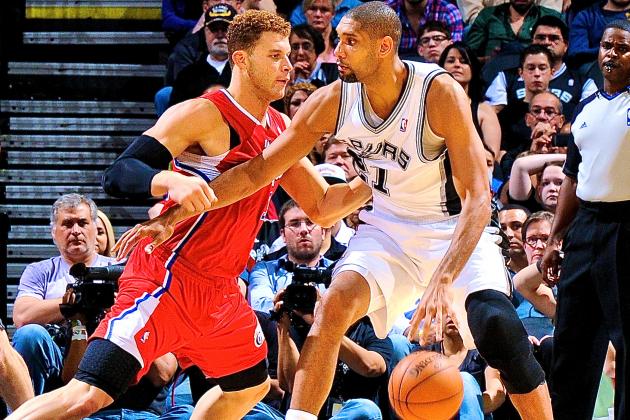 With tonight's San Antonio Spurs and Los Angeles Clippers game coming up shortly, I turned to an old friend of Project Spurs, who has the misfortune of being a Lakers fan…but he's also a Clippers fan, so I asked him a few questions about tonight's game. You can find Rey all over the internet, but he calls The No Look Pass home. Make sure to visit there for more on the Clippers and for the infamous Chronicles of Crotty Podcast.
1. While the Spurs could be getting some players back, Tony Parker will not play tonight. Will the Clippers look to attack Cory Joseph and gain an early advantage with Parker out?
We know Cory Joseph is a pretty solid defender but look for him to have a long night against Chris Paul, who just returned from his shoulder injury. In recent years, Paul looks to get everyone involved before taking over the scoring load in the fourth quarter. I look for Paul to get started early; with Blake Griffin's recent run, I don't think he's as worried about the other guys not getting theirs early.
2. Blake Griffin has quite a streak of 25+ point games going. What will the Spurs have to do defensively to put a stop to it?
They have to rough Blake up. As much as he has shown a more diverse offensive repertoire when Chris Paul was out, he still doesn't like getting beat up underneath. Sure, it would rile Blake up but I'm not convinced that Blake plays better when he's angry. I'm not convinced that the whole team plays better when angry. The Spurs are battle-tested and feel can play through any mood.
3. The Spurs have had their share of trouble with top teams this season, and especially lately. Do you think that makes tonight's game somewhat of a must-win?
I guess. But the Spurs have been an annual worry in the postseason ever since the David Robinson days. When it's playoff time, it's a different beast; the Spurs will play these teams four to seven games straight and will figure the other team out. I think they'll be fine. The Spurs should be concerned with health but that's also every other team's worry.
4. The Spurs and Clippers have split games this season and both games have been blowouts, with the Spurs winning the most recent with Chris Paul out. The Spurs are a little banged up. Does this trend of blowouts continue with Paul back and Parker out?
Tony Parker makes the Spurs machine go but Pop has an uncanny knack of keeping the machine going even when his star players are out (witness the Spurs' win over the Warriors early this season when Tiago Splitter made the game-winning tip-in). But believe it or not, the best thing to happen to the Clippers is Chris Paul being out for a few weeks because it solidified Blake Griffin as an even more major player in this league. The resourceful Spurs will stay with the Clippers but I think Parker's absence will hurt San Antonio. I think Clippers win, 105-97.