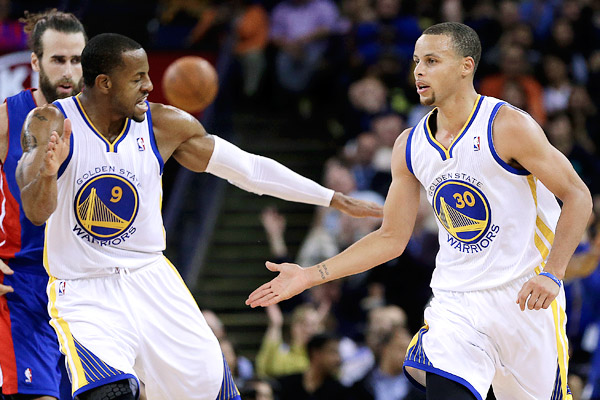 Are the Warriors an elite team?
The Warriors' +3.8 point differential (per 100 possessions) indicates they are an elite team, or at least sub-elite (distinguishing between levels of "elite" is, of course, very arbitrary) But their 14-12 record indicates that these Warriors, currently on the outside looking in the Western Conference playoff picture, aren't much more than an average team.
I'd lean towards the former for two reasons — they are very good on offense and defense, ranking 11th in points per possession and eighth in points allowed per possession, respectively.
Only seven teams outscore their opponents by more points per 100 possessions — San Antonio, Miami, Indiana, Oklahoma City, Portland and the Clippers — and each team is a bonafide contender (depending on how much you value Portland and the Clippers).
The Warriors have the lowest winning percentage among the top 10 teams in net rating, behind Denver and Phoenix, and they've dropped six of seven games against the very best teams in the league by a margin of 8.3 points per game. They needed an Andre Iguodala buzzer beater just to beat Oklahoma City at home, a game in which the Thunder beat them in three of the four factors conducive to victory — effective field goal percentage, offensive rebounding rate and free throw rate. Beating good teams is difficult and the Warriors have been on the wrong side of the scoreboard often, though they have been within sniffing distance.
They've struggled in close games this year; the Dubs have won five of 12 games decided by five points or fewer, and seven of their 12 losses are by fewer than five points and/or in overtime. Opponents have outscored them by 24 points in 59 "clutch" minutes and the Warriors have made just 36 of 100 shots, per NBA.com — they've been decimated by 14.9 points per 100 possessions, the 25th worst mark in the league.
Golden State went 24-16 in games decided by five points or fewer last year, and their point differential (per 100 possessions) in "clutch" games was eighth in the NBA. Their massive drop this season may be a fluke, considering this team is a better defensive outfit this season, a necessity when the margin is close.
The Warriors have played a bunch of close games without Iguodala — a pliable defensive dynamo, who can spare Curry and Thompson a tougher defensive assignment and create when the offense reaches a halt — and the Curry-Thompson-Iguodala-Lee-Bogut lineup was destroying their opposition prior to his injury. They have several lineup options in high-leverage situations, including Harrison Barnes in Iguodala's place or Iguodala at the power forward, and each gives them a different look. Winning close games, for a team of this caliber, should not be a problem.
The Warriors are 7.5 games behind the No. 1 seeded Oklahoma City Thunder, but the real margin isn't that pronounced. I'm still betting the Warriors will finish in the top five in the Western Conference, rather than in the morass, where they currently reside.
Golden State is taking more 3-pointers this season.
They've upped their percentage of 3-pointers by about five percent; 28 percent of their attempts are 3-pointers, eighth in the league, and 3-point field goal makes represent 27 percent of their entire offense.
Curry and Thompson each take a gigantic amount of 3-pointers — more than half of their 606 total 3-pointers — and Mark Jackson gives them leeway to pull up from distances where mere mortals aren't permitted to shoot. The Spurs prefer to create high-percentage 3-pointers organically; Golden State just flings up 3-pointers from every part of the floor (though Jackson does run several sweet plays after timeouts, designed to free Thompson and Curry for open 3-pointers).
Iguodala is all you need.
The Warriors are 19.5 points per 100 possessions better with Iguodala on the floor, and 8.5 points beter on defense. Golden State opponents have made 57 percent of their shots in the restricted area, the fourth lowest field goal percentage in the league, and they concede a large share of mid-range shots, but their defense lacks Iguodala's perimeter panache. Iguodala is a physical freak who can guard four positions, create turnovers, ignite transition opportunities and finish in transition. The Warriors missed him — A LOT.
SportVU tidbits.
— Thompson is attempting 7.7 catch-and-shoot attempts per game, and his eFG% is ninth in the league, among players averaging 4+ catch-and-shoot attempts. Only Ryan Anderson is averaging more shots.
— Curry leads the league in pull up attempts — a jump shot outside of 10 feet, with at least one dribble before shooting, per SportVU — and his eFG% is 14th in the league, among players averaging 4+ pull ups per game. He's scored more points on pull-ups (308) than Tiago Splitter, Cory Joseph and Matt Bonner have all season (302).
— Opponents have made 89 of 199 shots (44.7 percent) at the rim when Bogut is defending. Only 13 players have allowed a lower field goal percentage against shots at the rim.
— Bogut has turned 355 chances into 236 rebounds, the ninth-highest conversion rate in the league.
— Golden State is scoring 38.5 points (per 100 possessions) off turnovers and in transition with Iguodala on the floor and just 26.1 points when he sits.