Have you ever tried pretzel M&Ms? They're M&Ms, but with a bit of pretzel in the middle, instead of
chocolate or a peanut.
Four days ago, I was telling someone a story about Mark Hamill on the set of Star Wars, and saw someone else with a bag of M&Ms. Without thinking – or asking for permission – I reached in the bag and popped a pair of blue M&Ms in my mouth (I like the blue ones). When I tasted the odd, but tantalizing taste of sweet chocolate mixed with a hint of salty pretzel, and that extra bit of crunchiness – I, well, I Frodo'd. I was Frodo leaving the Shire, I was Luke leaving Tatooine, Alice down the rabbit hole, Neo in the Matrix, Potter at Hogwarts. I was transported to another world because someone put a pretzel inside a piece of candy.
Granted, I like M&Ms, but that's all I was expecting – just a Plain Jane ordinary M&M experience, and then wham! I'm hit with something not only amazing, but entirely unexpected. I had to figure out why that pretzel made the M&M so much better and moreover why I never saw it coming.
The San Antonio Spurs are 36-6, the best record in the Association, and they are just like that pretzel M&M.
At the start of the season we were all expecting a regular M&M; we expected the Spurs to be good, not great, to notch a pedestrian 50 wins and march in a neat line to a second round playoff exit, with only a possibility of slight variation. I wrote that I was more sure the Spurs would not win a title this year than I have been any previous year and while there were a handful of optimists, most analysts – even a majority on this site – did not predict a title for the Spurs this season. A league best record at the half way point is not a title, but it is a clear indicator that we did not see the pretzel coming.
The question now is: what exactly were we wrong about? There are four popular preseason predictions, or opinions, concerning the Spurs that come to mind.
Age and Injury
Who said it? Project Spurs, pretty much everyone else
Probably the consensus concern analysts had coming into this season for the Spurs was the age of the roster, and the potential increase of injuries that would bring. Last season injuries were a nuisance, and everyone being a year old made many of think that problem would only get worse. The wear and tear on the Big Three was chief among the injury concerns.
What actually happened:
Forty-one games into the season, Duncan, Parker and Ginobili have played and started in every single game. Jefferson and Blair have also rounded out the starting five with perfect physical consistency. Having these players healthy and on the floor all together is an obvious benefit, but more the intangible effect is having the starting five develop consistency. There's a chemistry among this group that never developed between any five players last season and that wouldn't be possible without everyone being healthy.
Tim's minutes (lack thereof)
Who said it? Pounding the Rock, Bleacher Report, Dime Mag
Going hand-in-hand with the general age concern were worries about Duncan's role as he goes through the latter part of his brilliant career. Duncan has been a picture of consistency throughout his career, but the mileage he's put on his body by carrying a team through thirteen seasons and often deep playoff runs (plus offseason basketball) has taken a toll on him. We came into the season knowing that if he was one hundred percent healthy and rested he'd be vintage Timmy, but we also knew "one hundred percent healthy and rested" would be a fleeting sight.
Tim would have to be rested significantly during the regular season and that would limit the Spurs to an average output during the standard 82 games, in exchange for a hopeful run in the playoffs with a rested Tim Duncan.
What actually happened:
Duncan has played in all 41 games, and while he's trending for a career low for season averages in minutes and points, his rebounding and defensive exploits are remarkably efficient (9.5 boards and two blocks per game in less than 30 minutes of average play time). He's also shooting 73% from the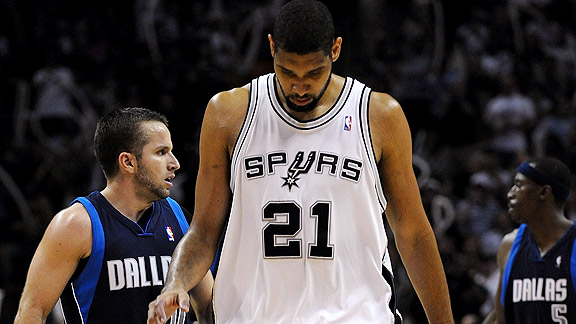 free-throw line. Moreover, the Spurs are winning games with only moderate amounts of Tim Duncan.
DeJuan Blair, Matt Bonner and Antonio McDyess are doing a fine job of spelling the front court in Duncan's absences. Ginobili and Parker seem to be handling the go-to scorer responsibilities as a balanced tandem. Coach Popovich and staff seem to have cracked the code – they've established a winning formula that doesn't rely on heavy doses of Duncan. It's only the midway point, but this formula seems highly sustainable.
Youth in question
Who said it? Project Spurs, 48 Minutes of Hell
We heralded the arrival of Tiago Splitter, but were cautious about how well he would adapt to NBA basketball. James Anderson and Gary Neal seemed both packed with potential, but both were unproven and would be asked to contribute big this season. George Hill was a the favorite to have a break out season, but most of his success came in a relatively short spurt last season because of injury to Parker. We were hopeful, but mildly skeptical about the youth movement.
What actually happened:
Gary Neal happened, that's what. The 6-4 shooting guard (almost-but-not-quite a real combo guard) has had some explosive performances including a 21 point effort against Dallas before New Year's and back-to-back 22 point outings against Phoenix and Denver going into Christmas. He's averaging 8.7 points per and shooting nearly 40% from three. His points and energy off of the bench have been almost Ginobili-like in their importance to the team's success and he's epitomized the pretzel theory of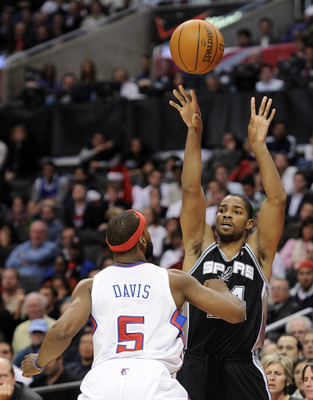 unexpected goodness.
Hill and Blair have both landed about where we expected them, which is not a bad thing. Splitter has had some struggles with injury and generally come along slower than some had hoped he would. James Anderson showed a promising start to the season before suffering a stress fracture in his fight foot.
The Spurs have gotten veteran consistency from Hill and Blair, and the unexpected contributions from Neal have clearly added to their higher than expected win percentage.
Inconsistent outside shooting
Who said it? Dime Mag, Pounding the Rock
The Spurs have been know as a good outside shooting team and while the percentages from last season (around 36%) weren't atrocious, Pounding the Rock writer Josh Guyer probably said it best: "… [the Spurs] had guys who were supposed to be shooters but couldn't buy a shot to save their careers when it mattered". We've witnessed inconsistency in key moments, seen acceptable shooting sink to unacceptable shooting in pressure situations and rightly ascertained a need for improvement.
What actually happened:
Matt Bonner heard us and got angry – very angry. The Red Rocket is torching the net to the tune of 50% shooting from behind the three-point line. Jefferson is shooting 42% and Neal and Ginobili are both in the high 30s percentage-wise. As a team the Spurs are shooting right at about 40%, second best in the league, just barely behind Golden State.
OK Spurs fans it's time to voice your opinions. What are your thoughts?